National Bio Entrepreneurship Competition (NBEC)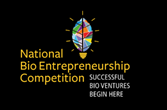 NBEC 2019
As a part of BREC activities, C-CAMP organises National Bio Entrepreneurship Competition (NBEC) every year to attract, identify, and nurture bio-entrepreneurs across India with path breaking business ideas for societal impact. The business ideas can be from any sub-domain of Life Sciences, including healthcare, agri-biotech, animal health, and industrial biotech. The past two editions of the competition have created a great nationwide impact: NBEC received more than 3500 registrations from across 32 states and union territories; provided ₹3+ Crores INR in cash prizes and investment opportunities; the winners and finalists of 2017 and 2018 editions grabbed the attention of investors, were featured in national and global media, and went on to win many other accolades.
NBEC 2019 campaign will reach out to aspiring entrepreneurs, start-ups and established companies across India. NBEC will consist of three rounds spread over four months starting from August 1, 2019:
Round 1 - online application form followed by administrative due diligence and online review
Round 2 - business pitch to regional Jury across 5 cities
Round 3 - residential boot camp and mentoring over 2 days followed by business pitch to Grand Jury
NBEC applicants compete for exciting awards which include cash prizes, investment opportunities, and one-on-one mentoring sessions with leading industry and investment experts.
NBEC 2017 video (link)
NBEC 2018 video (link)