Course Title:
C-CAMP Beckman Coulter Basic Flow Cytometry Course
BC -  C-CAMP  - Cytometry Centre
Centre for Cellular & Molecular Platforms (C-CAMP)
GKVK Campus,  Bellary Road, Bangalore 560 065
Basic Research Flow Cytometry Course: The workshop includes theory, technical discussions and hands-on lab sessions, which will provide participants with essential knowledge about the use of Flow Cytometry as a tool for probing the various research problems. Wet-lab modules include hands-on experience of flow cytometry instrumentation, set-up, quality control, compensation, common research assays, along with the basic understanding of Flow Cytometry acquisition and analysis software.
Topics to be covered:
Basics of flow cytometry – Understanding the basic concepts in flow cytometry with quality control and compensation. 

Concepts in immunophenotyping and multicolor panel designing. Basic immunophenoyping assay in wet lab sessions.

Various research flow cytometry assays: DNA cell cycle analysis, cell viability etc concepts and wet lab sessions.

Concepts on various research applications and data interpretation. Kaluza data analysis software. Evaluation & Graduation
Note: Interested participants are requested to submit the completed registration form.
The course fee is Rs. 10,000.00 plus 18% GST. Accommodation can be arranged on shared basis at a subsidized rate in the hostel/guest house, subject to availability.
Write to: flow2019 [AT] ccamp.res.in
Call: 080 6718 5052
Register: https://forms.gle/8EN3rE1nRs7Fp1Qw9 
NOTE: Registrations closed as seats have been filled. However you can submit the registration form to keep your application wait-listed and we will give you priority for the next Flow Cytometry course.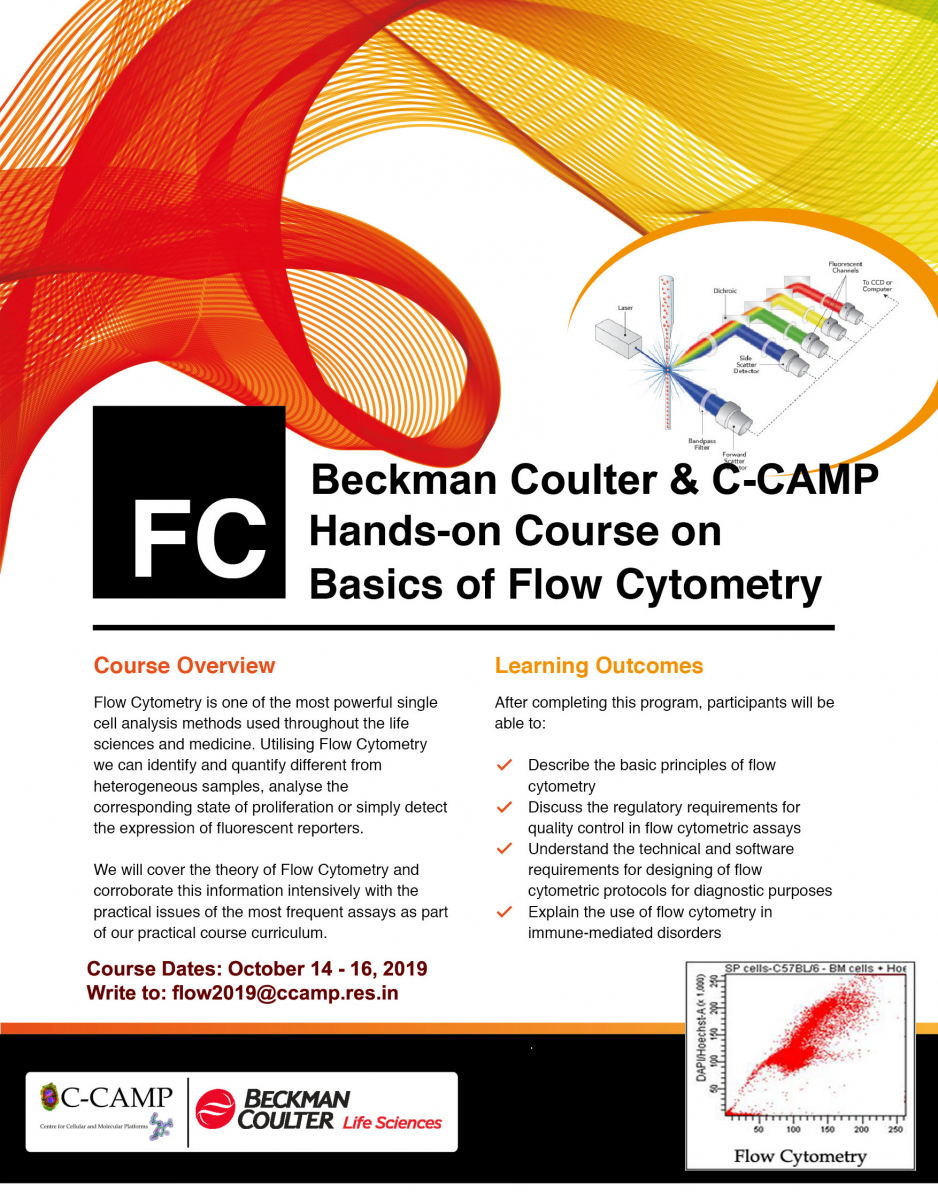 Date:
Monday, October 14, 2019
to
Wednesday, October 16, 2019
Last Date of Application:
Monday, September 30, 2019
Venue:
C-CAMP, GKVK Campus, Bellary Rd, Bangalore