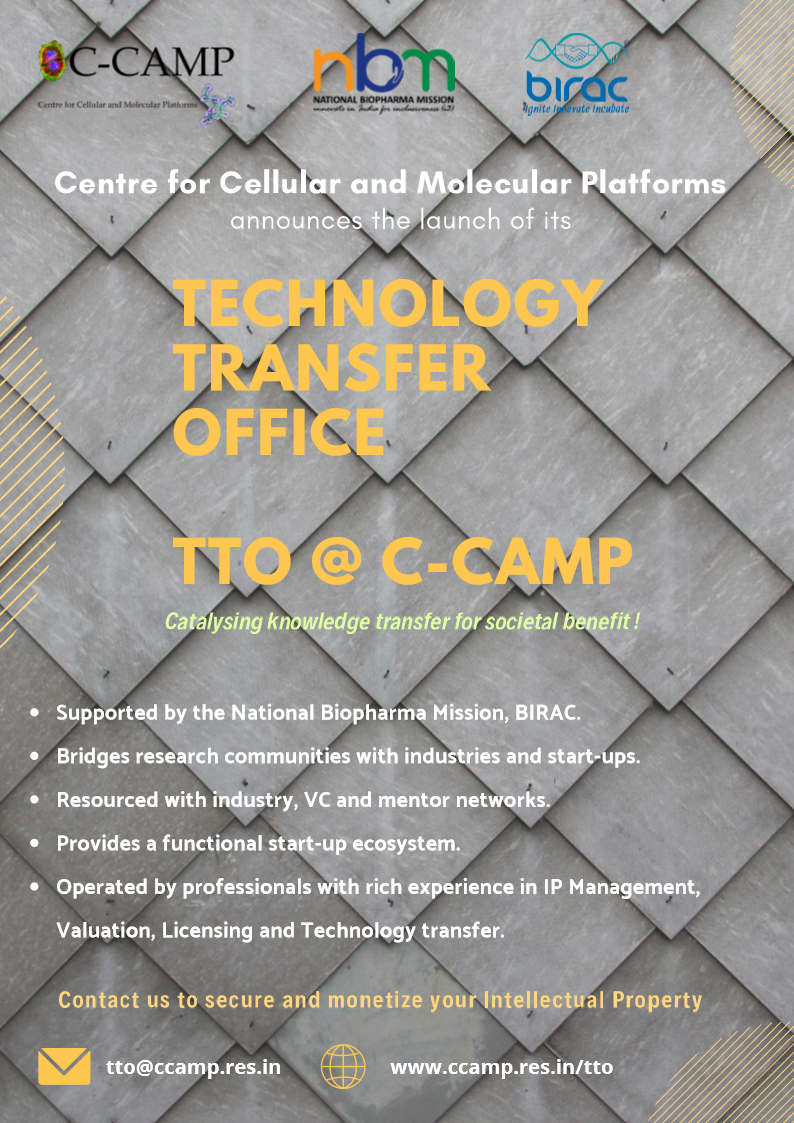 Technology Transfer Office (TTO) at C-CAMP, established with the support of the National Biopharma Mission has the mandate to move innovations and discoveries from the laboratories to the marketplace for greater societal benefit. It bridges the research community to the industry and start-ups through strategically evaluating, protecting and licensing its innovations. The TTO's aim is to sustain an ecosystem where both excellent science and entrepreneurship can complement each other and thrive.
Findings from research laboratories often remain within the confines of publications. It is important that these impact people's lives in positive ways. By harnessing inventions that have commercial and societal value, securing their intellectual potential and disseminating them through chosen development partners who can make them commercially viable, the TTO aims to contribute to regional economic development, generate revenue-streams for inventors and their institutions and promote economic well-being of the masses.
Services we offer:
1) Patentability Assessment
2) Drafting and Filing Patent Applications
3) Prior art search
4) Patent mapping
5) Freedom to operate analysis
6) Out-licensing inventions
7) Technology Sourcing, In-Licensing
8) Technology Transfer
9) Collaboration with academic labs for PoC/Validations or scale-up
10) Linkages with other TTOs for joint licensing of technologies
Get in touch with us tto@ccamp.res.in Our team of professionals with their rich experience in Law, Intellectual Property, Licensing and Technology Transfer will facilitate the transfer your ideas. From research labs into the market-place.