Technology Showcase 2.0 on 13th Oct, 2023. Application deadline extended to 11th September.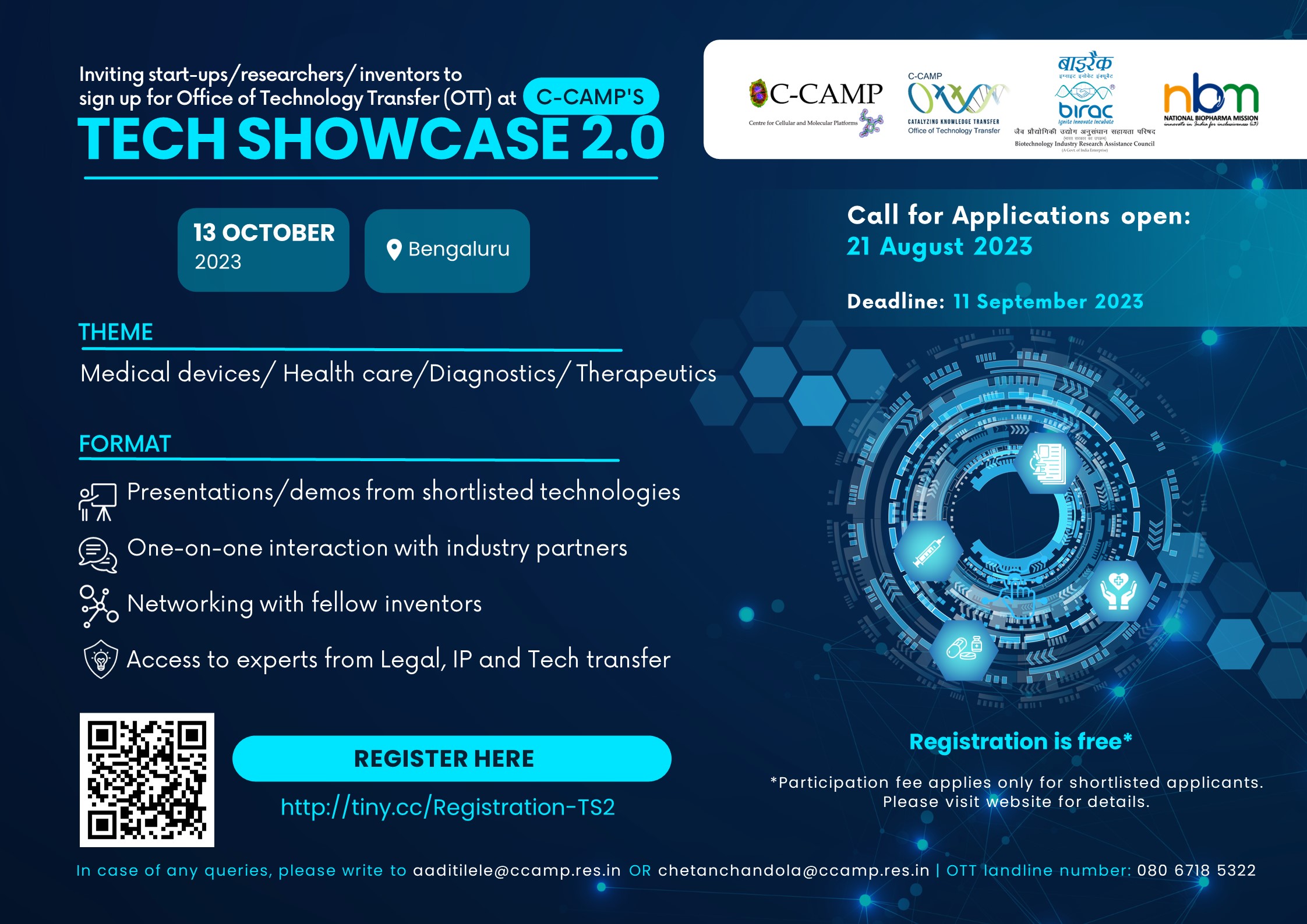 Office of Technology Transfer  (OTT) at the Centre for Cellular and Molecular Platforms (C-CAMP), an initiative supported by BIRAC under National Biopharma Mission [NBM], Govt. of India. OTT is organizing Tech Showcase 2.0 to bring inventors and industry at one place with the aim of commercializing technologies. Experts from Industry will join the event.
We are inviting inventors from Healthcare domain (details below) for the event. Applications will be screened, and shortlisted technologies will be invited for the event. Here are some points for your attention in this regard.
What is there for inventors:
Connect with industry - licensing opportunity

Connect with other inventors to find complementary strengths - opportunities for collaboration
Who is eligible:
Inventors (start-ups/academia)

Domain: Healthcare domain only (i.e., Therapeutics, Drug-delivery, Diagnostics, Med-tech, Medical devices & Digital Health, Life science R&D, Drug screening)
For registration, scan the QR code shown in poster (above) or click here:  http://tiny.cc/Registration-TS2
Fees:
Registration: FREE
Showcase Fee: 3000/- (If shortlisted)*
* The showcase fee is only applicable for shortlisted non-BLiSc participants. (i.e., Participants who are not part of Bangalore Life Science Cluster). There is NO Showcase fee for shortlisted BLiSc participants.
Important dates:
Call opens : 21st Aug 2023
Call closes : 11th Sept 2023
Tech Showcase 2.0 : 13th October 2023
Venue : Bangalore (final venue in Bangalore will be updated)
For any queries, please write to us at : aaditilele@ccamp.res.in OR chetanchandola@ccamp.res.in
You can also give us call at 080 6718 5322