C-CAMP COVID-19 Innovations Deployment Accelerator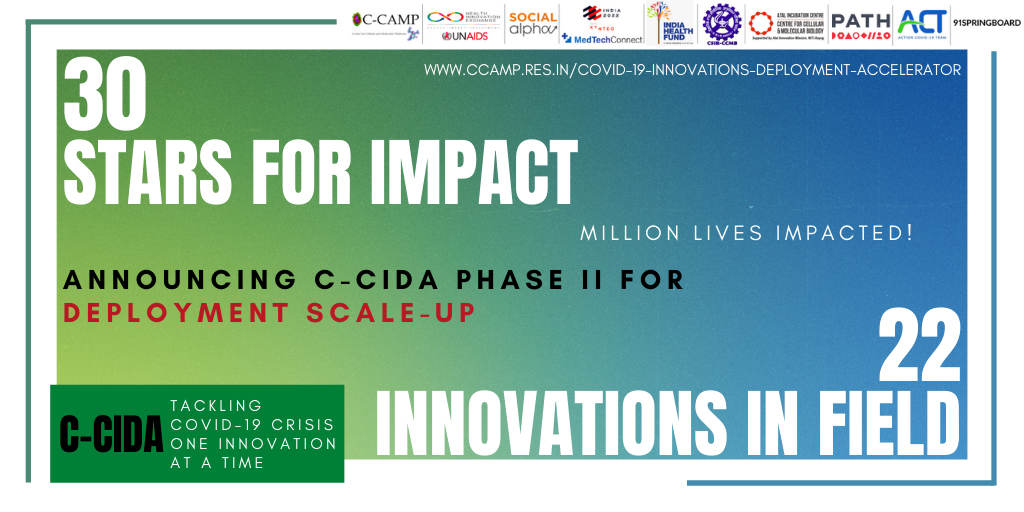 COVID-19 outbreak has wreaked havoc across the world with ramifications poised to surpass any catastrophe in our living memory. We believe that the fight back will start with your out-of-the-box innovative solutions and our ecosystem to change the course of this raging pandemic. The Centre for Cellular and Molecular Platforms (C-CAMP), being the leading hub of deeptech Life Sciences innovation and entrepreneurship in India, has joined nationwide fightback efforts to combat a rapidly spreading pandemic which demands an urgent response.
C-CAMP launched C-CAMP COVID-19 Innovations Deployment Accelerator or C-CIDA in March 2020 to help accelerate COVID-19 innovations stuck in last-mile issues. Since then, C-CAMP has been contributing to the nation's COVID19 fightback efforts through this initiative, and has identified, funded, and fast-tracked indigenous COVID19 technologies developed by Indian start-ups and innovators.
Through a rigorous multi-stage assessment and due-diligence process, C-CAMP selected 30 start-ups and innovators as C-CIDA Stars for Impact and fast-tracked their efforts towards the deployment. Today, 22 C-CIDA/C-CAMP innovations are at deployment stage and have estimatedly touched 1 million+ lives in the COVID-19 fightback.
C-CAMP also brought together 10 sterling organizations on the C-CIDA platform for the accelerated development and deployment of technologies.
Government of India's Make in India initiative and Hon'ble Prime Minister Shri. Narendra Modi's Atmanirbhar Bharat call has strengthened the start-up ecosystem to combat the pandemic with innovative and indigenous technologies. C-CIDA is a shining example towards realising Atmanirbhar Bharat, not just for India but for the world!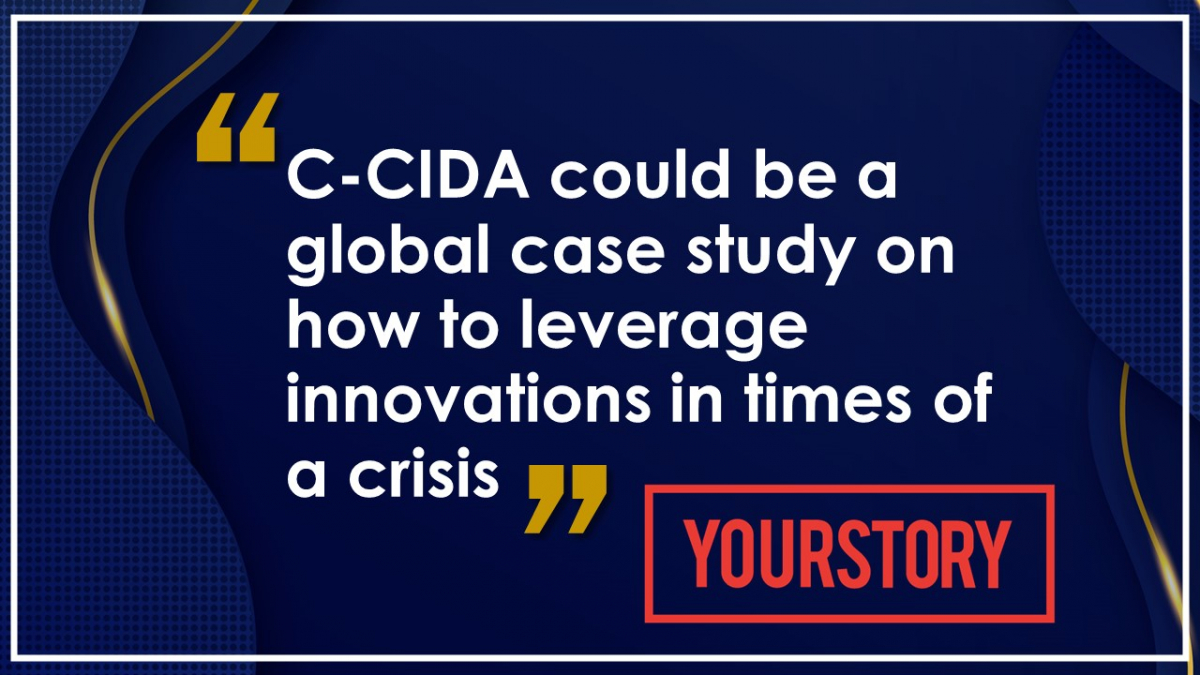 For more information, please write to:covid19innovations[at]ccamp.res.in
22 of C-CIDA/C-CAMP innovations have been deployed in the COVID-19 fightback. Together they provide a comprehensive COVID-19 care ranging from rapid diagnostic kits, assisted respiratory devices, AI/ML based pre-screening and monitoring tools to detect COVID-19, preventive technologies including air and surface sanitizers, remote vital stats monitoring systems in healthcare spaces, telemedicine, end-to-end cold chain transport of viral specimens from remote locations and plasma & immunomodulatory therapies.
C-CAMP and C-CIDA partners have fast-tracked their efforts by providing crucial last mile assistance in:
Pilot deployment, operational validation,and field implementation
Scaling through industry and manufacturing partnerships
Navigating regulatory pathway
Connecting with investors and fund raising
ACT considered select CCIDA applications for funding support.
The assessment criteria included readiness for deployment, scientific validity, feasibility, and impact. Selected after a rigorous vetting process, C-CIDA is now connecting these 30 startups with Industry as well as Government agencies for scaling-up their products and deployment.
Key achievements of some of the C-CIDA Stars for Impact include:
12 start-ups raised funding specifically in the context of their COVID-19 technology development and deployment
VinCense (MedIoTek) wins Asian Association of Business Incubation award for COVID-19 risk mitigation
Three start-ups established partnerships for industrial manufacturing of technologies
Four start-ups deployed their technologies Internationally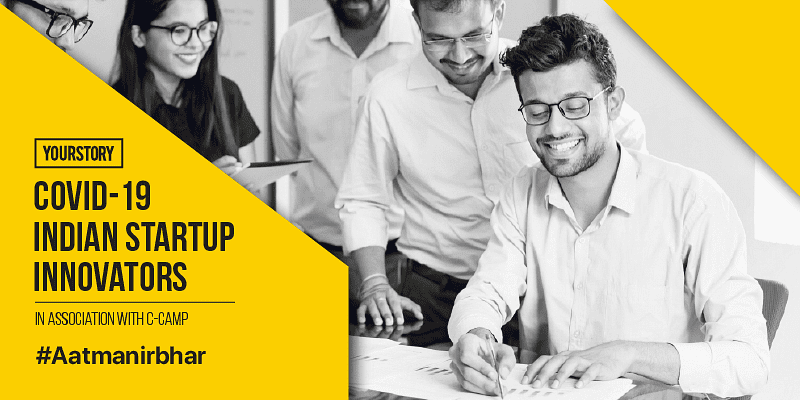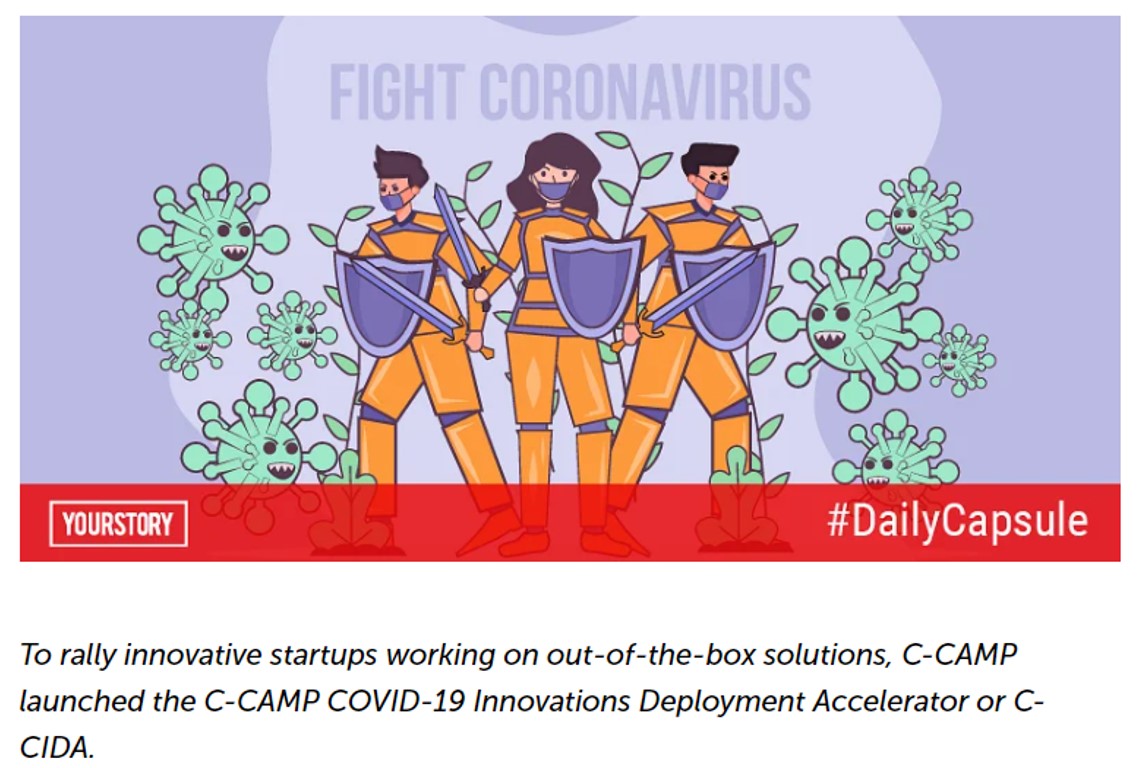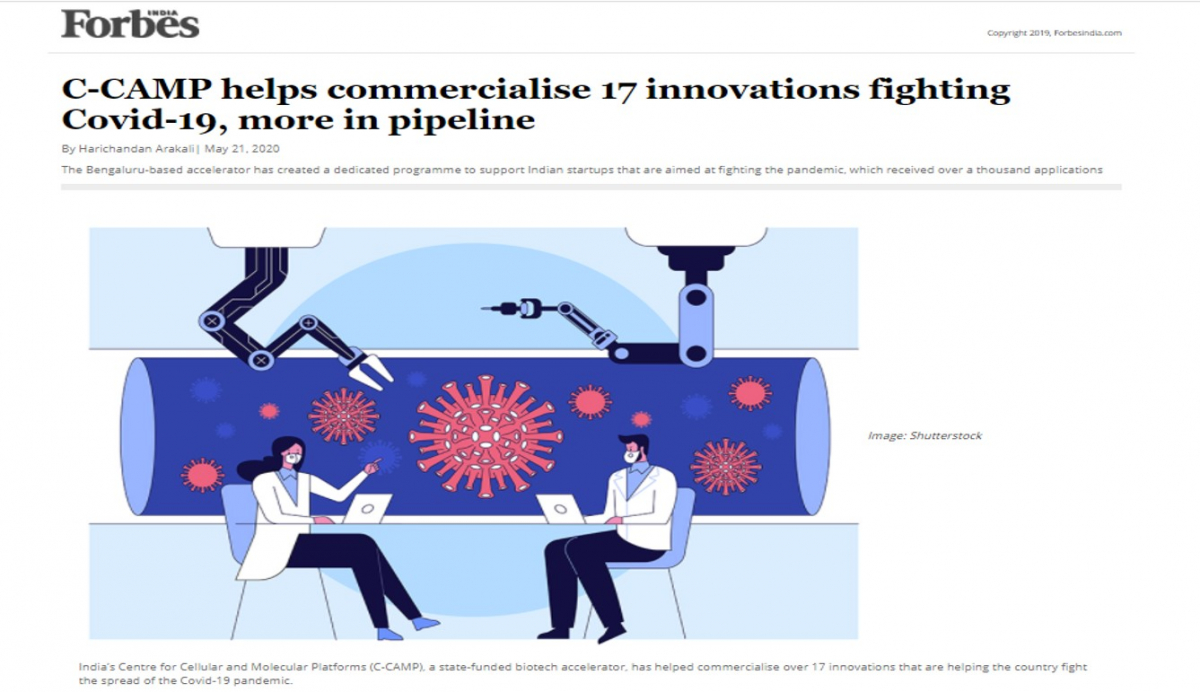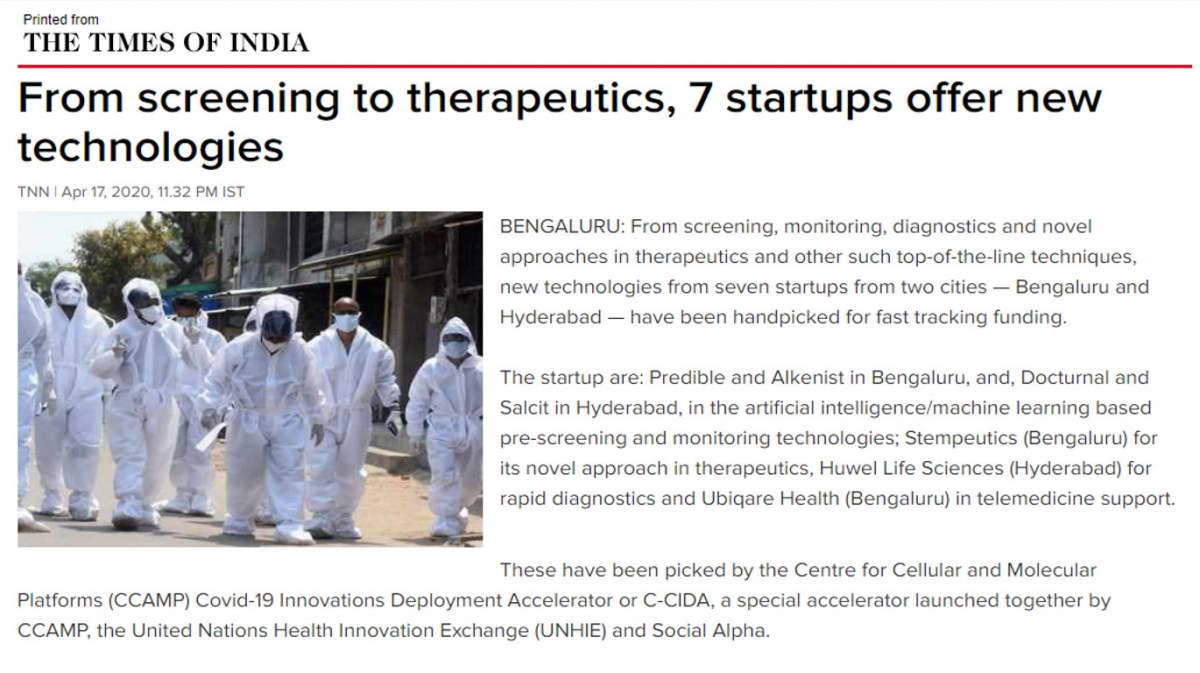 Press Links
Phase I: C-CIDA 30 Stars for Impact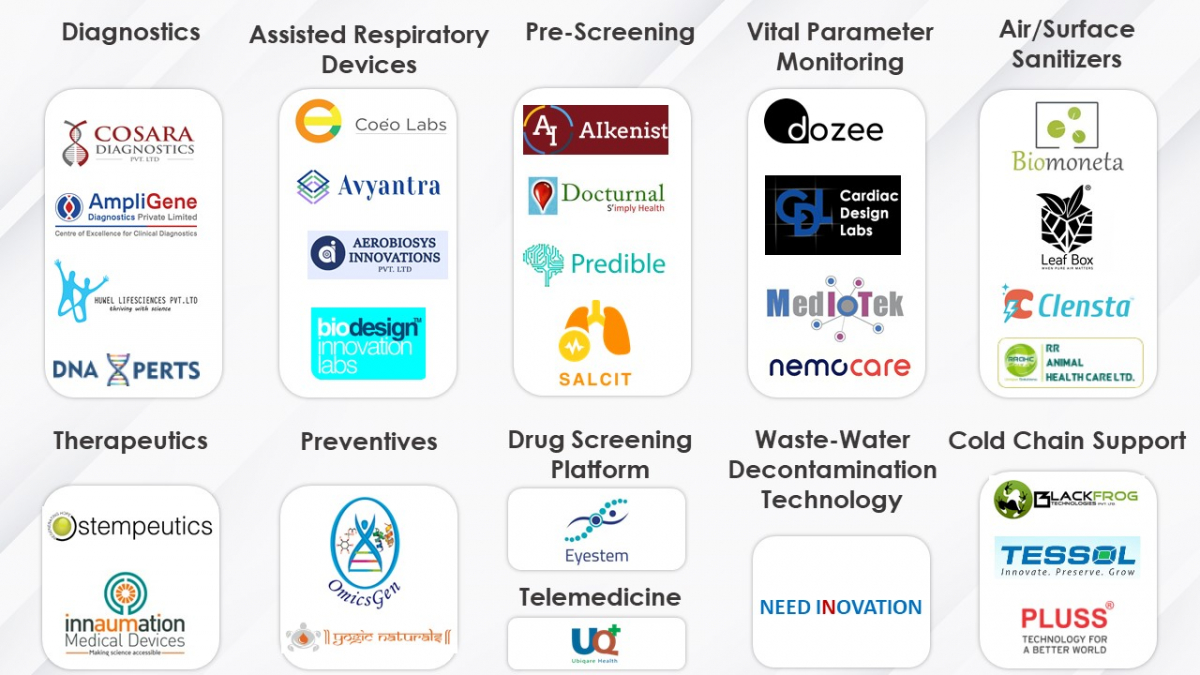 C-CIDA invited proposals from innovators across the nation and in response overwhelmingly received 1100+ proposals. After a rigorous multi-stage assessment and due-diligence of these proposals conducted on extremely tight timelines and with the objective of identifying their readiness for deployment, scientific validity, feasibility, and impact, C-CAMP selected 30 start-ups and innovators as C-CIDA Stars for Impact. The invited innovations were under following categories:screening, diagnostics, therapeutics, vaccines, containment strategies, public health & other categories including but not limited to focussed technologies in
mobile health technologies for screening and homecare,
diagnostic kits and Point of Care tests,
protective gear and sterilization innovations for care providers,
digital triaging tools and risk stratifying systems,
low cost ventilators and oxygen therapy units,
AI systems to assist critical care,
supply chain innovations,
volunteerism and service innovations and
scalable plug and play isolation units, treatment tents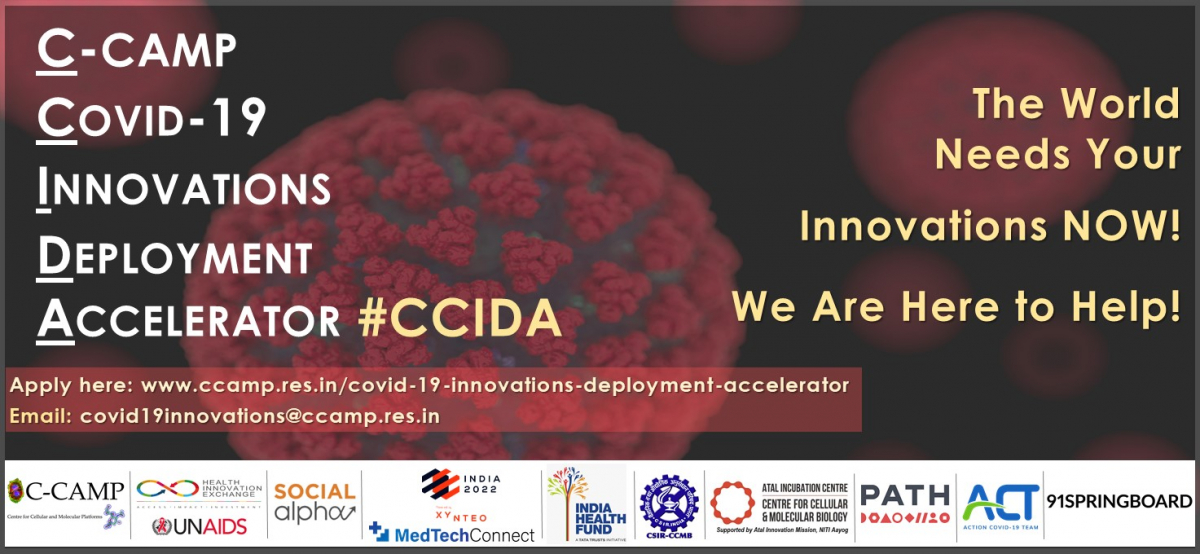 Submit an executive summary of your innovation here
Confidentiality commitment: Information submitted using this form is treated as strictly confidential; however, if you have any specific IP related concerns, kindly share non-confidential information only.
For more information, please write to:covid19innovations[at]ccamp.res.in
C-CIDA Partners:
About C-CAMP Centre for Cellular and Molecular Platforms (C-CAMP): C-CAMP is a member of the Bangalore Life Sciences Cluster (BLiSC) with a mandate to enable cutting-edge life science research and innovation, and promote life science entrepreneurship. It is India's premier innovation and technology hub as well as one of the largest and most thriving life sciences incubators in the country. C-CAMP has directly funded, incubated and mentored close to 150 start-ups over the last few years and is connected to about 1000 startups and entrepreneurs across the country in healthcare, agriculture and environment. C-CAMP is an initiative supported by Department of Biotechnology, Ministry of Science and Technology, and NITI Aayog, GoI. Find more details onwww.ccamp.res.in
About UN Health Innovation Exchange: UNHIE is a new initiative by UNAIDS and partners to leverage the potential of innovations to improve the health of all. The Health Innovation Exchange will link innovators to investors and innovations to implementers. Launched on the sidelines of the World Health Assembly in Geneva, Switzerland, the initiative aims to support global efforts to reach the Sustainable Development Goals. To respond to demands from countries, over the coming months UNAIDS will facilitate country-level innovation exchanges in key countries. Those exchanges will identify specific health-related challenges and areas in which innovation and technology could transform access to health care. For more details please visit:http://www.healthinnovation2030.org
About Social Alpha: Social Alpha promotes innovations and entrepreneurship with a mission to create large scale social, economic and environmental impact. Social Alpha nurtures start-ups through their lab to market journey, helping them create high quality, commercially viable, accessible and affordable solutions. Foundation for Innovation and Social Entrepreneurship (FISE) forms the core of the Social Alpha architecture, and operates through a nationwide network of technology and business incubation infrastructure sponsored and enabled by Tata Trusts, Government of India and several academic, philanthropic and corporate partnerships. Social Alpha is focused on catalysing entrepreneurship for impact and provides critical technology and business incubation support to the mission driven start-ups. For more information, please visithttps://www.socialalpha.org/
About Xynteo: Xynteois an advisory firm working with global companies to identify and carry out projects enabling our mission of reinventing growth.India2022, powered by Xynteo, is a purpose-driven global coalition committed to creating proof points for a new model of growth by 2022, the 75th year of India's independence. The Aditya Birla Group, Hindustan Unilever, Shell, TechnipFMC, Baker Hughes, WPP, State Bank of India, Cyient and Tata Trusts have committed to this bold goal and are the current partners of the India2022 coalition. The coalition was launched in March 2017 with blessings from the then President of India, Shri Pranab Mukherjee who praised this initiative as "the need of the hour". Currently, India2022 partners are working to develop projects across four impact tracks including Energise, Waste and Sanitation, Healthcare and Sustainable Mininghttps://xynteo.com
About MedTechConnect: MedTechConnect platform is designed to strengthen the ecosystem in India by bringing together innovative healthcare solutions, disruptive delivery models, and pioneering funding models to make critical medical technologies accessible to everyone.India is home to a thriving technology ecosystem, yet more than 80% of its medical technologies are imported. A large segment of the country's population still does not have access to basic healthcare services. To combat these challenges, Cyient and India2022 (powered by Xynteo) have partnered to build MedTechConnect, a platform that brings all medtech stakeholders together to address India's 'last-mile challenge' in healthcare and touch 10 million lives by 2022https://www.medtechconnect.in
About AIC-CCMB: Atal Incubation Centre - Centre for Cellular & Molecular Biology (AIC-CCMB) is an incubator dedicated to providing a thriving ecosystem for start-ups and scientists with early stage technologies in life sciences through funding opportunities, latest biologics equipment, mentorships and financial advice. A place where innovators and start-ups in Healthcare, Pharmaceuticals and Biotechnology can find business support services and a hand holding network necessary to take their idea to the next level. With a history of successful home-grown enterprises, CSIR - CCMB has always fostered the spirit of entrepreneurship. We are sowing the capital of our combined knowledge of scientific research, product development, and business development to help startups succeed. We harness our insight, experience, and expertise in helping entrepreneurs to achieve their goals. It is our aim to transform scientific research into successful start-ups that can help alleviate the quality of life of the general population and mitigate some of the world's biggest challenges in healthcare, food and animal care. Innovations in life sciences are critical to "Make in India" specifically to improve the quality of life of the general population. At AIC-CCMB, we endeavor to build an ecosystem to enable biotechnology innovation. As Indian researchers and innovators begin to expand the boundaries of science, pursuing novel therapies, diagnostics, medical devices and industrial solutions, we want to ensure that their technologies are translated into sustainable business solutions that reach the citizens. http://aic.ccmb.res.in
About CCMB: Centre for Cellular and Molecular Biology under the Council of Scientific & Industrial Research (CSIR) is a premier research organization engaged future forward areas of modern biology. The Centre conducts high quality basic research and training in modern biology, and promotes centralized national facilities for new and modern techniques in the inter-disciplinary areas of biology. Its mission is to conduct research in frontier and multi-disciplinary areas of modern biology and to seek potential applications of this work. CSIR -CCMB has a mandate to train people in the advanced areas of biology to serve the needs of development in these areas, with special provision for short-term training of staff from other institutions in techniques for which adequate facilities may not exist elsewhere. This centre provides centralized facilities in the country for new and modern techniques in the inter-disciplinary areas of biology, and to ensure that these facilities are so organized, maintained and administered that they can be put to maximal use by research workers from other laboratories and institutions in the country. https://www.ccmb.res.in
About India Health Fund: The India Health Fund (IHF) was set up by Tata Trusts in strategic partnership with The Global Fund. The Trusts seeded the IHF with an initial corpus of US$ 15 million, with a target of raising an additional US$ 135 million over the next five years to invest in innovations to eliminate TB, Malaria and other infectious diseases in India. The Fund's primary goal is to aggregate resources towards fostering innovations to accelerate progress towards elimination of Tuberculosis (TB) by 2025 and Malaria by 2030, by enabling their lab to last mile journey.http://www.indiahealthfund.org
About PATH: PATH is a global public health organization working to accelerate health equity so all people and communities can thrive. We advise and partner with public institutions, businesses, grassroots groups, and investors to solve the world's most pressing health challenges. PATH works in more than 70 countries to transform bold ideas into sustainable solutions that improve health and well-being for all.https://www.path.org
About ACT: ACT or Action COVID-19 Team is a fund of founders! A INR 100CR grant created by India's start-up community to give wings to ideas that could combat COVID-19 with immediate impact. We are seeking capital-efficient, scalable solutions from NGOs and innovative startups which need an initial seed grant to fight the spread of the pandemic. We are sponsoring ideas that could act as a force multiplier in today's situation. We are backing India's best start-up founders and deserving volunteers to combat Covid-19 using existing start-up assets.https://actgrants.in/
About 91springboard: 91springboard is a diverse ecosystem with early stage startups, growth stage companies, freelancers, SMEs, and large corporates. The focus has been to bring together all the stakeholders that constitute the startup ecosystem—Entrepreneurs, Government Bodies - both Indian and overseas, Technology cos. (Microsoft, Google, Amazon, etc), Technology Evangelists, Mentors and Subject Matter Experts, Consultants (Investment Bankers), Sources of Capital (Angel Investors, Venture Capital Firms and institutional funds, Banks)—and offer a platform for them to explore avenues of mutual interests, collaborations and partnerships. This mix allows for creating a self sustaining business ecosystem. As part of its program Business Support Track, 91springboard team works with select high potential innovative startups and collectively provides support in key areas to increase their chances of success.