Centre for Cellular & Molecular Platforms announces a 2022 post-COVID Special Call of the Karnataka Start-up Advancement Program – K -SAP BIO 50 (a Govt. of Karnataka supported program). Applications are invited from Karnataka based Bio-startups in Healthcare, Med devices, Agritech, Cleantech and other allied domains for this structured, deep dive engagement program with industry experts to increase traction and accelerate go-to-market.
In consultation with Karnataka Govt., this is a one-time non-transferable opportunity  
For KTech ELEVATE Winners (Top 6 Startups- based on K-SAP Selection process) for whom Equity will be waived
For other Karnataka based Startups a one time offer of only 1% Equity
Features:
Year-around advisory sessions covering all aspects of bio-entrepreneurship, such as product development, IP, Regulatory, Business model, and Funding with dedicated anchor advisors from industries as identified by C-CAMP.
Curated workshops, Networking events, International partnering forums and
Meetings with regulators, investors, channel partners and more
An investment opportunity in a fast-track mode for up to 1 Cr from C-CAMP (subject to due diligence & term sheets) for top 5 shortlisted startups from the program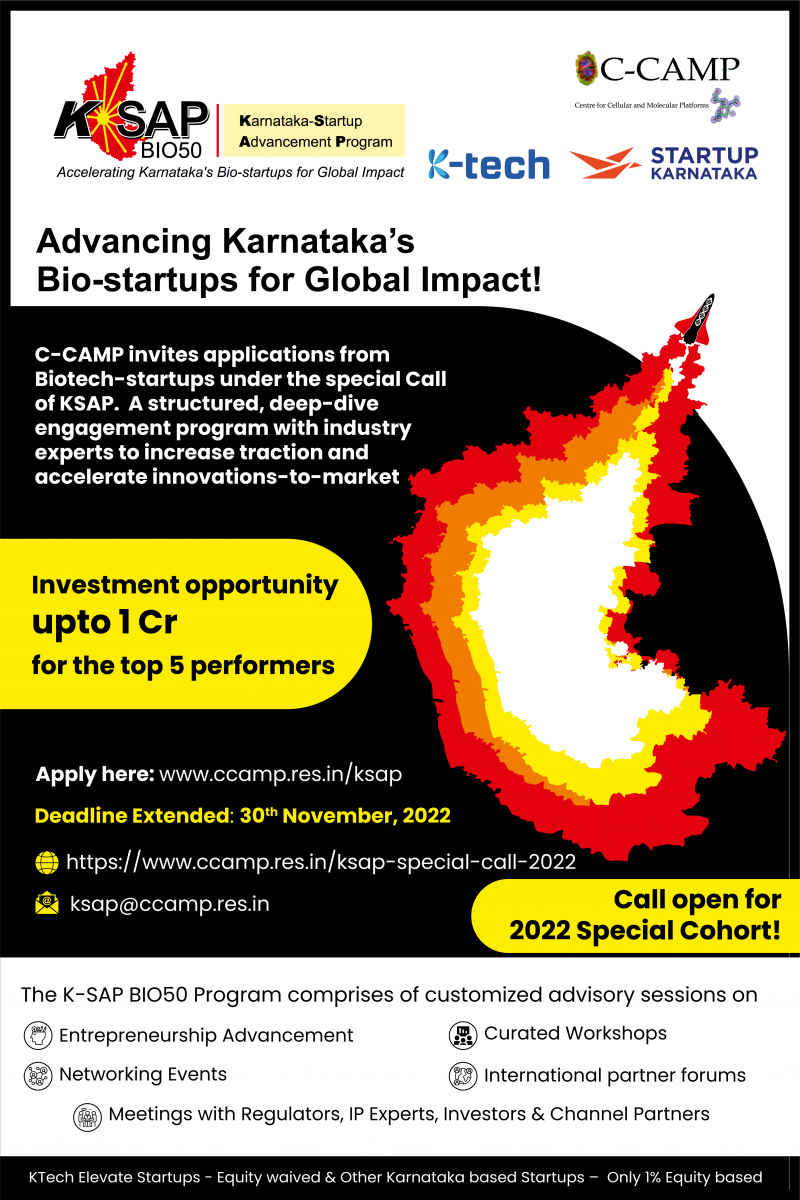 K-SAP BIO50 has already supported three cohorts. For more information visit: https://www.ccamp.res.in/csap-ksap-startup-cohort
Apply here by 30th Nov, 2022
Contact ksap[at]ccamp.res.in or nutanp[at]ccamp.res.in for queries.