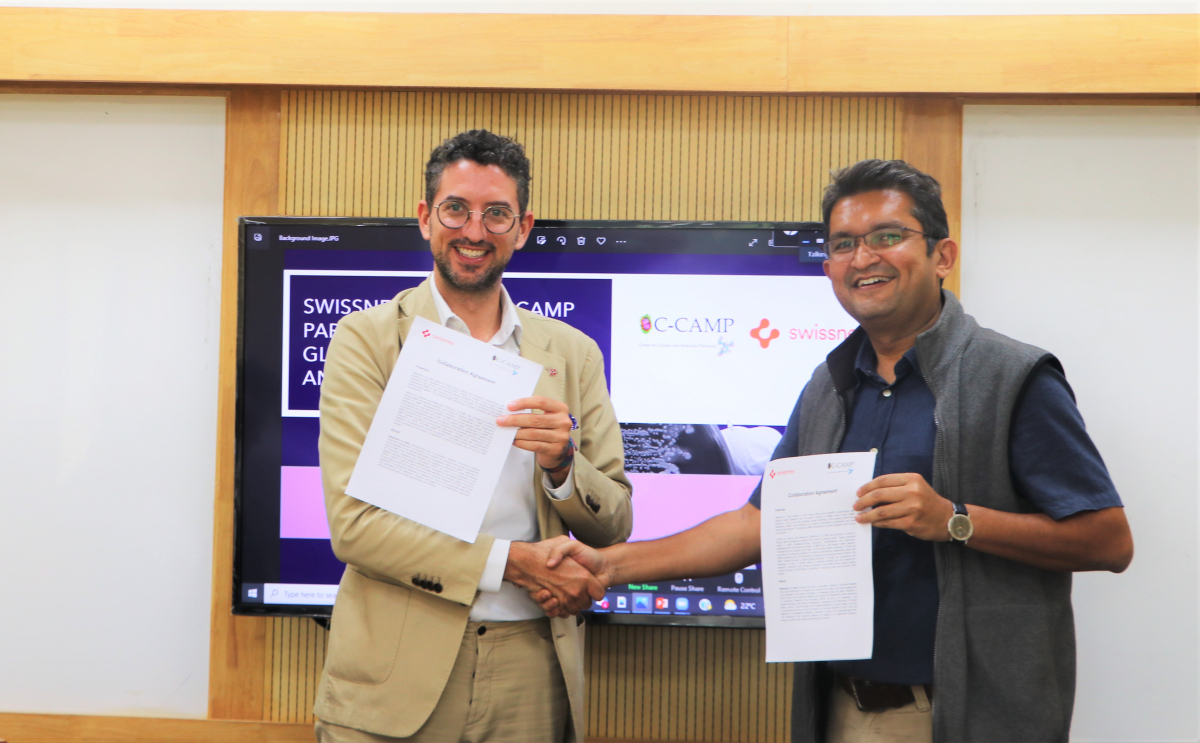 Centre for Cellular and Molecular Platforms, C-CAMP is joined by Swissnex in India to launch an Indo-Swiss bilateral innovation collaboration in Antimicrobial Resistance (AMR) space. The partnership will seek to create avenues for deeper Indo-Swiss cooperation in reducing India's and the world's AMR burden by urgently enabling exchanges in AMR science and innovation.
It was signed on 7th Oct, 2022 at C-CAMP premises by its CEO-Director Dr Taslimarif Saiyed and Jonas Brunschwig CEO, Consul General, Swissnex in India at exclusive talks between selected AMR innovators from C-CAMP portfolio, in the presence of high-level delegates from the Swiss scientific ecosystem, including Ambassador Jacques Ducrest of the State Secretariat for Education, Research and Innovation, Dr Matthias Egger, President of the Swiss National Science Foundation, and Dr Michael Hengartner, President of the board of the ETH Domain. 
The agreement underlines C-CAMP's growing prominence as a global destination for cutting-edge AMR innovation. Dr. Saiyed welcomed the signing saying that, "C-CAMP is eagerly looking forward to operationalizing this new Indo-Swiss bilateral partnership in the crucial domain of AMR. It will be underpinned by C-CAMP's strong portfolio of AMR technologies ranging from AMR therapeutics/drug discovery, preventatives and diagnostics, together addressing the multi-layered problem of AMR from a holistic viewpoint. We believe this collaboration will bring a global perspective to this rapidly evolving space in Indian R&D and accelerate product development across geographies."
Jonas Brunschwig mentioned Switzerland's strong interest in strengthening ties with Indian research and innovation ecosystem and said "Both India and Switzerland share a concern for antimicrobial resistance (AMR), which is why Swissnex in India is working to bring the two countries together on the issue. With this partnership, we hope to bridge the gap between the thriving Swiss AMR ecosystem and the remarkable community developed around C-CAMP. Through increased collaboration in science-based entrepreneurship, research, academic, and business sectors, we hope to speed the spread of the most recent findings in AMR across both countries."
The C-CAMP launched India AMR Innovation Hub or IAIH, a global convergent platform for national, international stakeholders to augment and synergize national efforts in the AMR combat will be a focal point of this partnership. IAIH that was launched in 2021 is currently supported by 17 government and non-government organizations many of which have Swiss presence. 
About Swissnex in India | Consulate General of Switzerland, connects the dots in research, innovation, and education between Switzerland and India. Swissnex's mission is to actively engage its partners in the global exchange of innovation, knowledge, ideas and talent and support such outreach. By crossing conventional boundaries, Swissnex offers a platform to foster collaboration and creativity for inspiring research and ground-breaking innovation. 
The Swissnex network has a presence in Boston, San Francisco, Brazil, China, India, and soon in Japan. An initiative of the Swiss State Secretariat for Education, Research and Innovation (SERI) in association with the Swiss Federal Department of Foreign Affairs, Swissnex in India is part of the Consulate General of Switzerland in Bangalore. 
https://swissnex.org/india/
About: Centre for Cellular and Molecular Platforms (C-CAMP) is India's premier innovation and technology hub and one of the largest and most vibrant life sciences incubators in the country. C-CAMP has directly funded, incubated and mentored 330+ start-ups over half a decade and is connected to over 2000 start-ups and entrepreneurs across the country in healthcare, agriculture and environment. C-CAMP has established several state-of-the-art technology platforms for facilitating cutting-edge research in the biosciences which have supported 220+ publications. C-CAMP is an initiative supported by Govt of India agencies including Department of Biotechnology, Department of Science & Technology, NITI Aayog-AIM, Ministry of Electronics and Information Technology, Startup India and Department of IT, BT, S&T Government of Karnataka. It has several international partnerships spread across US, UK, Netherlands, Denmark, Switzerland, Japan, Brazil and Israel. 
https://www.ccamp.res.in/