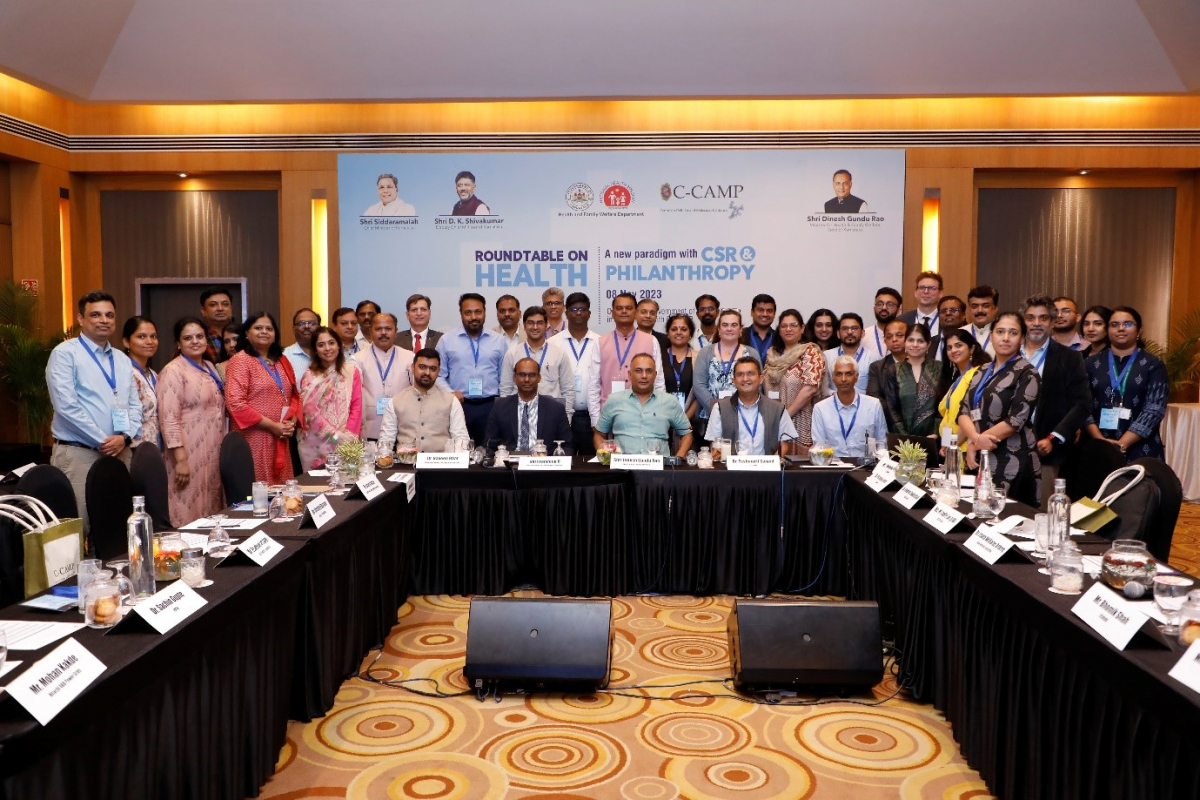 Dept. of Health and Family Welfare, Govt of Karnataka (GoK) and Centre for Cellular and Molecular Platforms (C-CAMP) came together to co-host a first-of-its-kind Health Roundtable with top leadership from CSR and Philanthropic organizations to explore partnerships and funding opportunities for strengthening public health systems. One key approach is through the deployment of new healthcare innovations in public health facilities in all districts. The meeting was chaired by the Hon'ble Minister for Health and Family Welfare, GoK, Shri Dinesh Gundu Rao and was held on November 8th in Bengaluru. The Roundtable follows the formation of a strategic alliance between the Dept. of Health and Family Welfare, GoK and C-CAMP that aims to boost the State's public healthcare delivery through implementation of indigenous innovations.
Apart from the Minister, the meeting was joined by key leadership from the Health Department - Commissioner, Health and Family Welfare Services, Shri D Randeep, IAS, who spoke about the structured pathways to work directly with the Karnataka government for health initiatives. National Health Mission Director, Govt. of Karnataka, Dr. Naveen Bhat, IAS provided a comprehensive overview of the state's health indicators and ongoing programmes in various domains of health. Also present were several industry heads and high-level officials from select corporate organisations and philanthropies such as USAID, Infosys Foundation, ACT Capital Foundation, PATH, UNICEF, Novo Nordisk Foundation, Biocon Foundation, AstraZeneca, Cipla, HCL Foundation, Cognizant Foundation among others. C-CAMP as India's leading innovation ecosystem for health-tech solutions, steered the discussion.
The Hon'ble Minister set the context for the Roundtable underlining the significance of four factors- affordability, accessibility, quality and scale in any augmentation effort for public health systems. He said, "Our aim is to make Karnataka a model state for healthcare that can be replicated by other states. Karnataka being the land of innovation and technology gives us a perfect opportunity to achieve this milestone. I believe, we can achieve this only through like-minded collaborations and partnerships. The public-private partnership will enable us to mobilise funds to upgrade our healthcare facilities and also help us explore innovative technologies and modern practices, which can make our public healthcare more affordable and accessible. We are looking forward to ideas and are working towards a results-oriented approach and having a measurable impact." The Minister also stressed that healthcare is one of the most important measures of any government's success, and to reduce procedural challenges in the improvement of healthcare delivery to the last mile, the Govt of Karnataka has brought in partners like C-CAMP to specifically address challenges in maternal and child health, non-communicable diseases, tuberculosis, eye health, and others.
C-CAMP Director-CEO Dr Taslimarif Saiyed said, "Our objective for today's Roundtable is to work on a roadmap for the next 3-5 years for the deployment of innovative, indigenous health solutions emerging from Karnataka by facilitating partnerships between Govt of Karnataka, C-CAMP and CSR and philanthropic organizations. Such a model will be pathbreaking for new technology adoption in the public health system, not only in Karnataka but nationally too. This is aimed to address some critical public health challenges, largely in semi-urban and rural populations. The pilot and scale-up programmes enabled by these projects will also hugely benefit deep science based entrepreneurial ventures based in Karnataka as the biotech capital of India."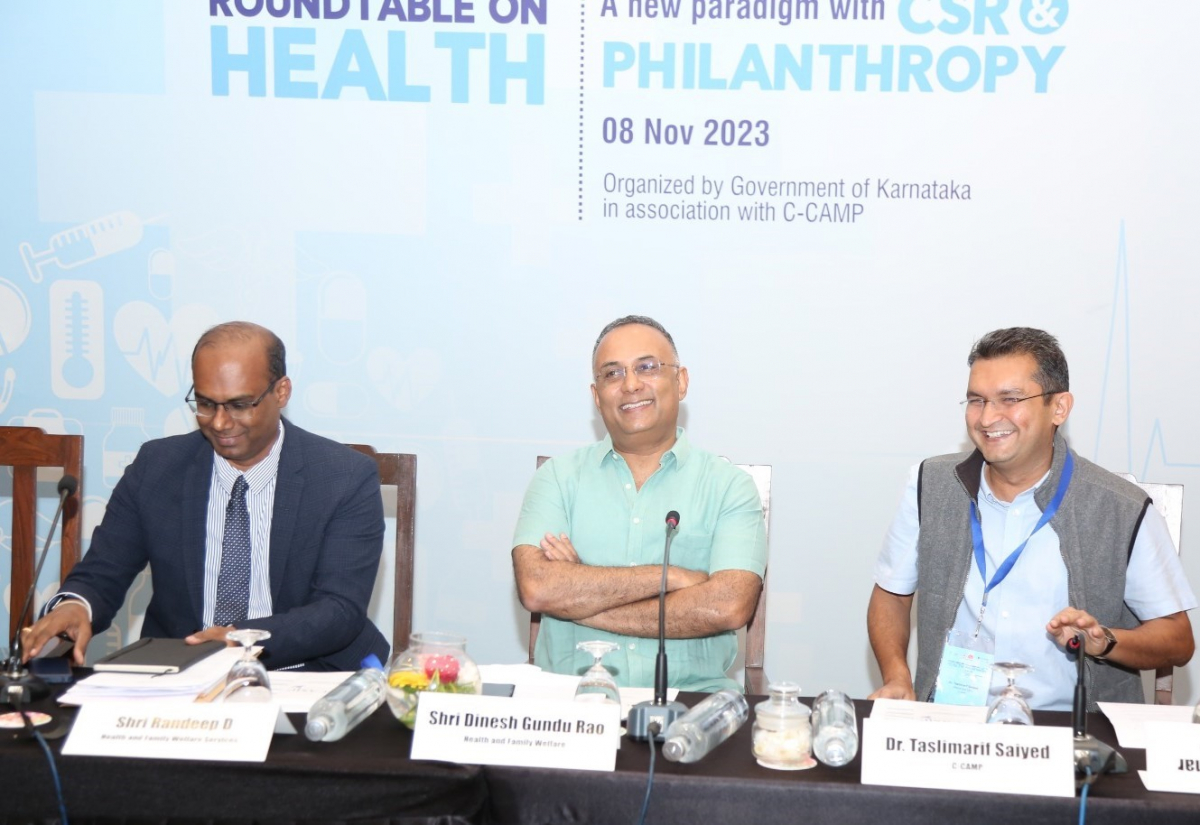 Press links:
https://www.thehindu.com/news/cities/bangalore/government-of-karnataka-and-c-camp-co-host-roundtable-to-develop-roadmap-for-innovative-healthcare-solutions/article67513474.ece [Hindu]
https://indianexpress.com/article/cities/bangalore/karnataka-govt-roundtable-public-health-systems-9019234/lite/ [Indian Express]
https://www.prajavani.net/district/bengaluru-city/csr-initiatives-health-sector-statement-by-dinesh-gundurao-bengaluru-2555907 [Prajavani]
https://epapervijayavani.in/ArticlePage/APpage.php?edn=Bengaluru&articleid=VVAANINEW_BEN_20231109_8_8 [Vijayavani]
https://www.biovoicenews.com/karnataka-govt-and-c-camp-co-host-roundtable-on-health-csr-and-philanthropy/ [Biovoice News]