C-CAMP AMR Diagnostics Idea Challenge 2022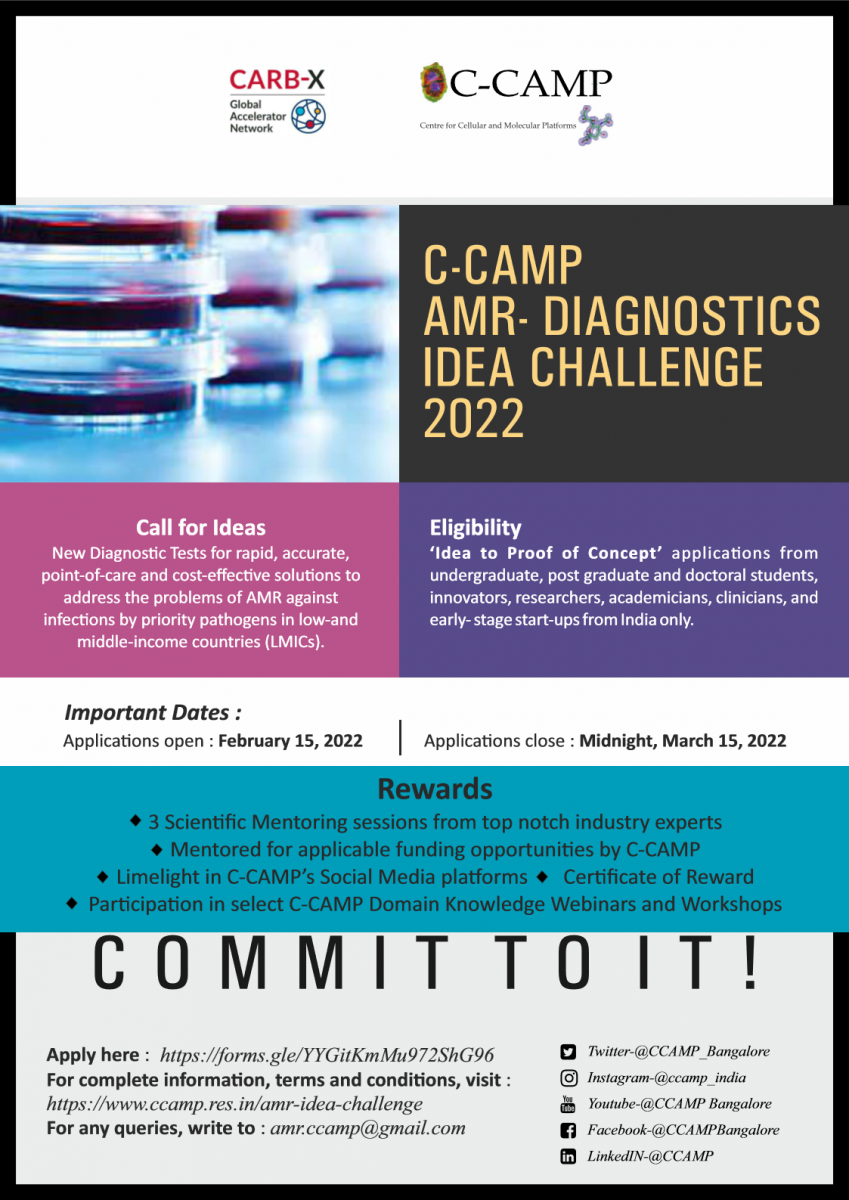 The Context:
Antimicrobial Resistance [AMR] is an emerging global threat. It is not only impacting the health system but also disrupting the efforts towards achieving the Sustainable Development Goals [SDG] of eradicating poverty, promoting good health and well-being, reduced inequality, decent work and economic growth, etc. According to a January 2022 publication in the Lancet with data from 204 countries, drug resistant infections were found to have killed 1.27 million people in 2019, this is more than many widely recognized causes of death, such as malaria and HIV/AIDs. Majority of these deaths were reported from sub-Saharan Africa and south Asia. The pandemic has further escalated the problem of AMR with increased, and often unnecessary, antibiotic consumption.
Early diagnosis plays a significant role in effective management of AMR. Faster and accurate diagnostic tests enable identification and detection of microbes such that the patient can be treated with the most appropriate drug in time. Diagnostics protocols can be effectively utilized in disease surveillance and occurrence of resistance patterns, which can enable timely interventions to prevent further spread.
The Challenge:
C-CAMP is a member of the CARB-X Global Accelerator Network (GAN), and is the only member outside of the US and Europe. As part of these activities, C-CAMP is hosting the C-CAMP AMR Diagnostics Idea Challenge 2022 whereby we seek to inspire people to be problem solvers and suggest ideas, that can potentiate solutions going forward, to address the lacunae in product innovation against the high priority pathogens which are crucial against AMR.
The Problem Statement:
Current diagnostic solutions are limited in their scope in identifying resistant microbes from clinical material at point of care, and determining susceptibility patterns, thereby adversely affecting evidence-based treatment.
What we are looking for:
How can newer diagnostic tests be developed or re-purposed to offer rapid, accurate, point-of-care and cost-effective solutions to address the problems of AMR against infections by priority pathogens that have a high incidence rate and are endemic in low- and middle-income countries (LMICs)?  
Eligibility Criteria:
The challenge is open to undergraduate, post graduate and doctoral students, innovators, academicians, clinicians, and early-stage startups (idea to PoC stage) from India only.
Application Process:
Complete the application (https://forms.gle/ELHyEbuP2jFYPf3q9) and submit your idea(s).
You can submit more than one application if you have more than one idea addressing the problem statement. Make sure that one application has ONE idea ONLY.  
Since this is an idea competition, no proof of concept or validation studies are required from your end. However, we encourage that you share any other document that supports your hypothesis/idea.
The applicants should avoid generalization and share ideas contextualized to AMR that specifically addresses the problem statement.
The ideas maybe novel, or cross-applied from another domain/indication.
Communicating ideas that are not of your thinking, or not original is highly discouraged.
Evaluation Process:
Evaluation will be undertaken only for complete applications.
The ideas will be judged on;
Problem-solution fit
Innovativeness of the Idea
Novelty of the idea
Practicality of the idea
Potential impact, if implemented
Top 5 ideas will be shortlisted for the next round. If shortlisted, the applicant will have to submit a video pitch in a given format
One Winner, and two runners-up will be declared
Reward:
3 mentoring sessions with expert(s) from the field
Opportunity to participate in workshops and events that can support further development of the idea
Mentoring to apply for appropriate funding opportunities through C-CAMP
Limelight in C-CAMP social media channels
Certificate of award
Important Dates:
Applications open: February 15, 2022
Applications Close: March 15, 2022 (Midnight)
Shortlisted application announcement: March 20, 2022
Deadline for submission of video pitch: March 25, 2022
Announcement of winners and runners up: March 31, 2022
For FAQs please click here.