C-CAMP AMR Quest 2021
Deadline extended to 5th April, 2021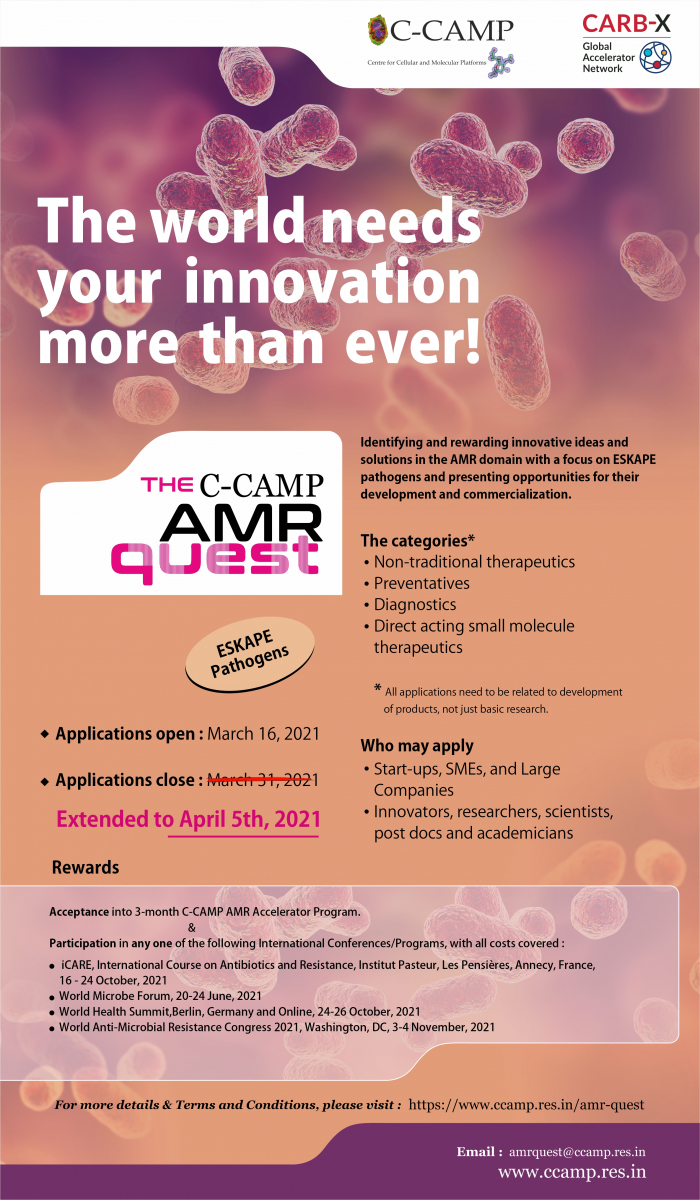 Objective of the Quest
Identifying and rewarding innovative ideas and solutions in the AMR domain with a focus on ESKAPE Pathogens and presenting opportunities for development and commercialization of these.
Scope of Application
The Antimicrobial Resistance Quest 2020 is inviting applications in the AMR domain spanning:
Non-traditional therapeutics including the indirect acting small molecules (virulence, potentiators, BLI combinations, etc), Direct- and indirect-acting large molecules (peptides, etc.), phage, microbiome, nucleic acid, anti-sense, Drug conjugates (ADC, other dual acting drug conjugates)
Preventatives including vaccines, preventative antibodies and fragments, and microbiome products.
Diagnostics including devices which can diagnose ID/AST of pathogens
Direct acting small molecule therapeutics including new classes of drugs or new targets only
* All applications need to be related to development of products, not basic research
Rewards
Acceptance into 3-month C-CAMP AMR Accelerator Program
                                                         &
Participation in any one of the following International Conferences/Programs, with all costs covered:   

1) iCARE, International Course on Antibiotics and Resistance, Institut Pasteur, Les Pensières, Annecy, France,16 - 24 October, 2021
2) World Microbe Forum, 20-24 June, 2021
3) World Health Summit,Berlin, Germany  and Online, 24-26 October, 2021
4) World Anti-Microbial Resistance Congress 2021, Washington, DC, 3-4 November, 2021  
Selection Criteria :
Round 1, Round 2 and Grand Finale: A review panel comprising experts from academia and industry community will review the applications. The applications will be evaluated for novelty, scientific strength, societal impact and commercialization potential.
Idea & In the process of establishing Proof of Concept (PoC) : The applications will be evaluated for novelty and scientific strength.
Proof of Concept (PoC) established : The applications will be evaluated for novelty, scientific strength, impact including Ability to address medical needs in AMR (from WHO priority pathogen list) and commercialization potential.
Format
Round 1 (Online Applications and First level Screening):  C-CAMP campaign will reach out to aspiring innovators, start-ups, and students across India. A 'Call for Applications' will be announced through various media. Applicants will have to apply online in the prescribed format. A panel of experts from industry and academia community will review the proposals and shortlist the top 100 applications.
Round 2 (Video Conferencing Presentation Round and Shortlisting for Finale): The shortlisted applicants will be invited to make a presentation to a jury. These presentations will be held through Zoom. The jury will select the top 25 applicants in this round.
Round 3 (Finale): The selected applicants will present at C-CAMP, Bengaluru before a Grand Jury, which will select the winners of quest.
Important Dates/Timeline
Applications open: March 16, 2021
Applications close:  April 5th, 2021
External Review Round : April 5th - 11th
Selected applicants for round 2 notified: April 12th, 2021
Round 2 Presentations: April 19th - April 22nd, 2021
Pitching to Grand Jury - April 30th
Grand Finale - Winners Announcement and Rewards: May 7th
For more details write to us amrquest[at]ccamp.res.in