C-CAMP AMR Quest 2022
Deadline extended to 19th May, 2022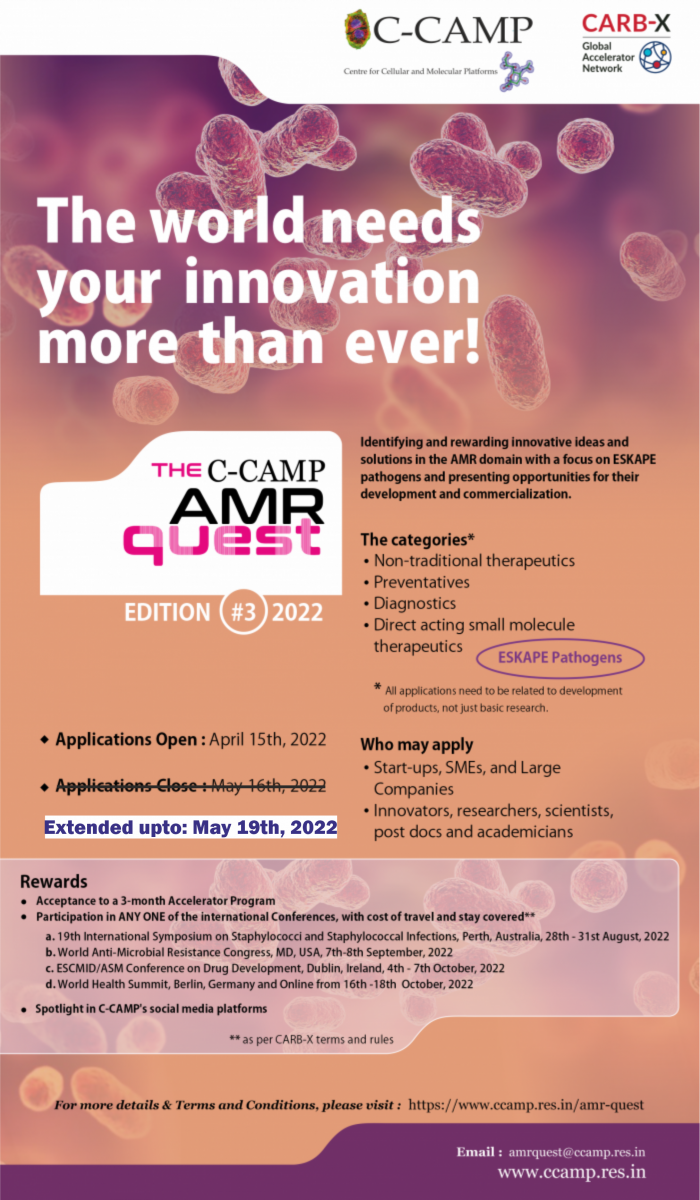 Objective of the Quest
Identifying and rewarding innovative ideas and solutions in the AMR domain with a focus on ESKAPE Pathogens and presenting opportunities for development and commercialization of these.
Scope of Application
The Antimicrobial Resistance Quest 2022 is inviting applications in the AMR domain spanning:
Non-traditional therapeutics including the indirect acting small molecules (virulence, potentiators, BLI combinations, etc), Direct- and indirect-acting large molecules (peptides, etc.), phage, microbiome, nucleic acid, anti-sense, Drug conjugates (ADC, other dual acting drug conjugates)
Preventatives including vaccines, preventative antibodies and fragments, and microbiome products.
Diagnostics including devices which can diagnose ID/AST of pathogens
Direct acting small molecule therapeutics including new classes of drugs or new targets only
* All applications need to be related to development of products, not basic research
Categories of applicants;
Individuals
Start-ups and Small & Medium Enterprises (SMEs)
Large Companies
Rewards
Acceptance into 3-months C-CAMP AMR Accelerator Program 2022. In this, opportunity will be provided to develop the solution further with mentorship in the domains of science, business, regulatory, patent law, fundraising etc.
Participation in any one of the following International Conferences/Programs, with all costs covered:
1)The 19th International Symposium on Staphylococci and Staphylococcal Infections, Perth, Australia, August 28-August 31
2) 2022 Drug Discovery & Development Centre (H3D) Symposium: Celebrating a Decade of Infectious Diseases Drug Discovery and Development in Africa, October 25 - October 28
3) World Health Summit will be held in Berlin, Germany  and Online from 16-18 October, 2022, Link : https://www.worldhealthsummit.org/
4) World Anti-Microbial Resistance Congress 2022 will be held in MD from 7-8 September, 2022
5) ESCMID/ASM Conference on Drug Development to Meet the Challenge of Antimicrobial Resistance will be held in Dublin between 4th-7th October 2022
Mentorship for seeking funding opportunity through CARB-X funding round
Spotlight in C-CAMP's social media platforms
Opportunity to attend appropriate C-CAMP workshops & events
Selection Criteria:
Round 1, Round 2 and Grand Finale: A review panel comprising experts from academia and industry will review the applications. The applications will be evaluated for Problem-solution fit, novelty, Scientific strength, Market opportunity & societal impact and commercialization strategy.
Idea & In the process of establishing Proof of Concept (PoC) : The applications will be evaluated for problem-solution-fit, novelty and scientific strength.
Proof of Concept (PoC) established & in the process of pre-clinical study: The applications will be evaluated for problem-solution fit, novelty, scientific strength, market opportunity & societal impact (including ability to address medical needs in AMR (ESKAPE pathogens from WHO priority list) and commercialization strategy.
Format:
Round 1 (Online Applications and First level Screening):  C-CAMP campaign will reach out to aspiring innovators, start-ups, and students across India. A 'Call for Applications' will be announced through various media. Applicants will have to apply online in the prescribed format. A panel of experts from industry and academia community will review the proposals and shortlist the top 100 applications.
Round 2 (Video Conferencing Presentation Round and Shortlisting for Finale): The shortlisted applicants will be invited to make a presentation to a jury. These presentations will be held through Zoom. The jury will select the top 25 applicants in this round.
Round 3 (Finale): The selected applicants will present at C-CAMP, Bengaluru before a Grand Jury, which will select the winners of the AMR Quest 2022.
Application Process:
Complete the application and submit your application.
You can submit more than one application if you wish to submit more than solution. However, make sure that one application has ONE solution ONLY. Fill separate application forms for different solutions. 
Incomplete applications, applications with incoherent content, or applications with problem/solutions that fall outside the scope of the AMR Quest will be screened out and will not be evaluated.
Sharing of supporting material is highly encouraged, although it is not mandatory.
By submitting the form you declare that the idea/ work submitted by you is your original work and has not been drawn from any other source or person. 
Plagiarism, of any degree and form, will not be entertained and can lead to disqualification at any stage of the Quest. 
Important Dates/Timeline
Applications open: April 15, 2022
Applications close: May 16, 2022 May 19, 2022 

[Deadline extended!]

External Review Round: June 1st-7th June, 2022
Selected applicants for round 2 notified: 9th June 2022
Round 2: Prefinal presentations: June 13- June 15, 2022
Round 2 Presentations: June 15th-17th June 2022
Pitching to Grand Jury – June 27th 2022
Grand Finale - Winners Announcement and Rewards: June 30th 2022
For more details write to us amrquest[at]ccamp.res.in