Agriculture Grand Challenges
Agriculture Grand Challenges Program aims to identify promising innovations to address problem areas and gaps in Indian agriculture., identified through the Agri Immersion Program These innovations will have strong potential to transform key aspects of Indian agriculture in a disruptive manner. The challenge is a unique opportunity for Agri-tech start-ups with a commercially viable solution to solve defined problems at the grassroots level through deep-science innovations.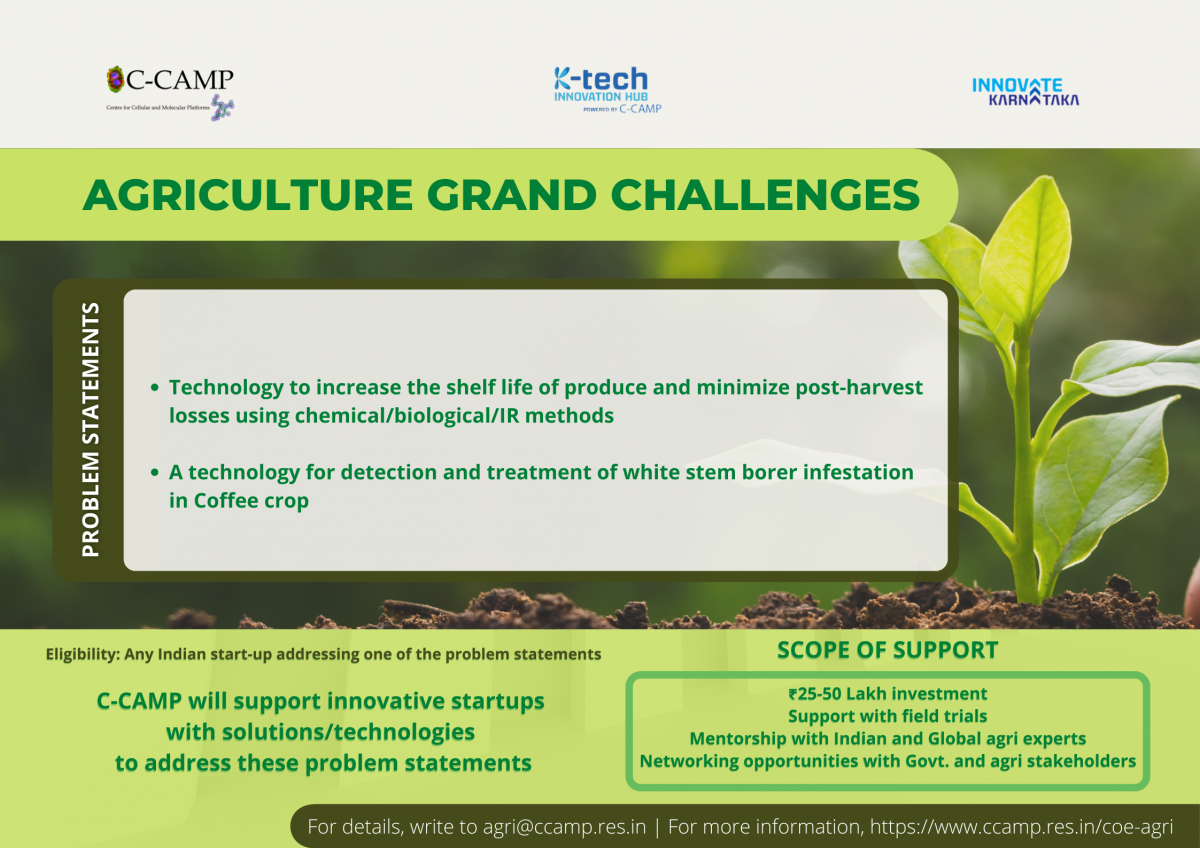 Call for Applications:
The Agriculture Grand Challenges was officially launched by the Hon'ble DyCM of Karnataka Dr. Ashwath Narayan on 23-July-2021.
The following three problem statements have been selected for the 1st call of the Agriculture Grand Challenges:
A quick, accurate and affordable PoC method for testing a) macro/micro nutrient density in soil and/or plant tissue and b) soil microbial diversity
A technology to enhance the shelf life of produce and minimization of post-harvest losses through chemical/biological/IR methods *
A technology for detection and treatment of white stem borer infestation in Coffee crop *
*Currently Open
Eligibility criteria:
For Indian Startups:
1.Start-up registered in India.
2. Start-up must be <10 yrs. old
3. The shareholding by Indian promoters in the beneficiary start up should be at least 51%.
4. Start-up must develop deep-tech/deep-science solutions limited to the above defined problem statement(s).
5. Selected start-up should develop MVP within 18 months of time
Link for application: https://bit.ly/3iSkdGz
For Foreign start-ups:
International start-ups addressing any of the above problem statements are welcome to apply to the scheme. Apply at https://forms.gle/MsBDU7aDTSrPXfpp8
Please contact agri@ccamp.res.in for details.
Deadline: May 31st, 2022
Scope of Support:
Outlined below is the scope of support for various categories of startups selected under this scheme:

1. Mentorship and hand-holding by Indian and International agri experts
2. Networking opportunities with Govt. of Karnataka and Agri stakeholders
3. Support with field trials through collaborations with Agriculture Universities and Organizations
4. Funding opportunities:
• For startups incorporated in Karnataka: Investment of 25-50 L from GoK Funds
• For other Indian start-ups: Investment of up to 50 L through other C-CAMP schemes (lateral entry)
• For International start-ups: Connects with VCs and Angel Investors
C-CAMP Agri Grand Challenge Awardees
Cohort #1
---
Klonec Automation Systems Pvt Ltd
---

Klonec Automation Systems Pvt Ltd is an Agri-tech start-up specializing in soil technology, farm data acquisition and related cloud services by building disruptive solutions for soil analysis using cutting-edge technologies. Operating under the brand 'Krishitantra', their objective of the solution is to encourage balanced application of fertilizers leading to higher farmer income, soil rejuvenation, savings on irrigation water, reducing water contamination and greenhouse gases, etc. The IOT based indigenously developed products - KrishiRASTAA and KrishiJEEVAN - when utilized in soil testing and agronomy advice on balanced application of fertilizers.
Current Status: Currently, their products are used in domestic and international markets as well. Within India, they are present across 18 states with 2000+ installations. They cater to retail, enterprise and government segments, including FPOs, VLEs, Foundations, Agri-service providers, fertilizer manufacturers, supply-chain companies & aggregators, food processing industries, contract farming institutions, and organisations in FMCG products. Krishitantra is appointed by Govt of India to handle the 'soil health card' portal and digitize the end to end soil testing from soil collection to data generation.
Website: https://krishitantra.com/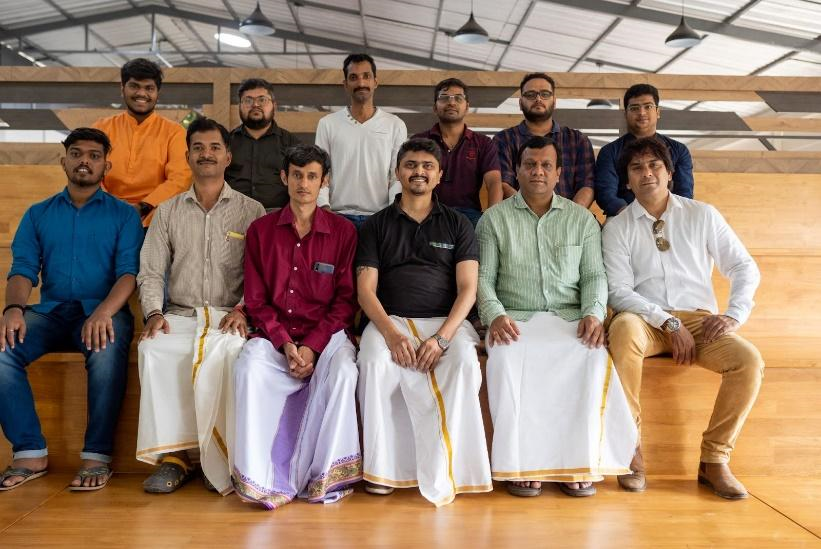 ---
Papyrus Diagnostics Pvt Ltd
---

Papyrus Diagnostics is an early-stage start-up incubated at Society of Innovation and Development at Indian institute of Science, Bangalore. The company is a spin-off from Dr. Bhushan Toley's lab at IISc. Papyrus Diagnostics work in the domain of Agri-tech and infectious disease diagnostics. Papyrus provides a patented portable soil testing device with an USP 'single step disposable test'. The device fits inside a palm and is robust to all common weather conditions. The technology has been demonstrated for one of the three analytes that's proposed. The device has 2X accuracy and gives result in 3-5mins.
Current Status: Papyrus is conducting quick validation for the assay and exploring opportunities for validation with potential customers. They are validating their product in the hydroponics sector. In addition to device development, they are also focusing on developing a software interface that will serve as a seamless mediator between the product and end customers.
Website: https://www.papyrusdx.com/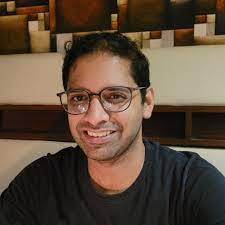 ---
Navork Innovations Pvt Ltd
---
Navork is a spin-off from IIT Delhi currently incubated at SINE IIT Bombay, developing solutions derived from plants to extend the shelf life of fruits and vegetables and reduce post-harvest losses.
Navork takes a multifaceted approach to take care of all parameters causing deterioration of shelf life. A Unique solution derived from plants keeps the moisture in and keeps oxygen out with the help of hydrophobic material from plants peel. They use an extract from Soy that has reduced enzymatic activity and cinnamon extract that reduces the microbial load. The plant extract when dipped or sprayed on fruits and vegetables increases their shelf life by over 2.5x as it takes care of all aspects of post-harvest losses.
Current Status: Navork has commercialized the technology for improving the quality and shelf life of mushrooms. Along with clearing the regulatory FSSAI license and safety certifications for the product, they have validated the product from ICAR and several mushroom farms in the country. Navrok's product is established and is being used repeatedly by customers. Navork is helping to reduce the 'cap opening' of mushrooms by 90% as per farms and improved quality and shelf life is fetching them 10-15 rupees extra per kg of mushroom at farms. The product is currently commercialized in five states of India.
Website: https://navork.com/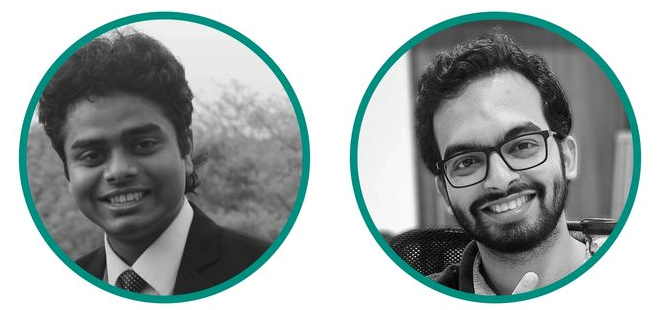 ---
Ekosight Technologies Pvt Ltd
---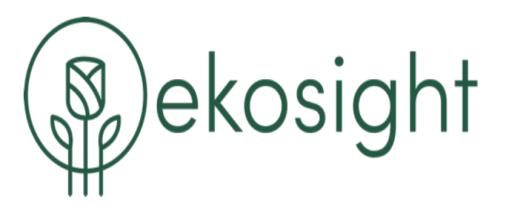 Ekosight is developing AI-powered soil testing and fertilizer recommendation device that solves the problem of complex, delayed and costly soil testing process for agricultural society and provides them point-of-care timely service at less cost with precise fertilizer recommendations. with state-of-the-art AI-powered actionable recommendations services. With the vision of becoming a Google map for providing soil data to all the Agri service providers and farmers, Ekosight is working on a mission of providing accurate soil data to Agri communities.
Current Status: Ekosight has successfully completed a paid pilot program in Punjab. Ekosight has deployed 10 devices across 20 districts and is conducting comprehensive soil tests on over 1,500 samples. With Ekosight's recommendation, a per-sample charge of INR 180 for the six parameters is charged. Farmers can make informed decisions based on reliable soil data. The impact has been remarkable, with a 20% increase in yield and a 30% reduction in input costs reported by farmers.
Website: https://www.ekosight.com/