Grand Challenge for Strengthening CoWIN
The Ministry of Health and Family Welfare, Government of India, and Ministry of Electronics and Information Technology (MeitY) have launched the "Grand Challenge for Strengthening CoWIN". The CoWIN system is a subset of COVID India Portal which provides end to end management of COVID19. To harness the talent and innovative ideas of new startups / new technology specialists, this Grand Challenge is organized in a phase-wise manner. On this line of thought, Phase-I of this challenge envisages strengthening the CoWIN Network. This initiative may be further extended to Phase-II to find solutions with respect to different aspects of COVID 19 in the future. 
To participate and win rewards totaling INR 3.85 Crores apply before 15 January 2021
For more details visit https://app.thebizplanner.com/public/application/inc/5fc1e1535a3c7671a744dba0

---
Low Engagement Program: Indo-Swiss Health-Tech Meet
'Indo-Swiss Health-Tech Workshop and a Meet-up/networking of Digital Health Start-ups and Ecosystem Stakeholders' was organized by C-CAMP on February 19,2020 in partnership with University of Basel, Switzerland and Swissnex India. This day long meet-up was organized in partnership with University of Basel, Switzerland and Swissnex India. The visiting delegation from University of Basel and Swissnex India provided an excellent overview of innovation and entrepreneurship related opportunities, including that of funding and technology partnerships, for digital health start-ups from India in Basel and in Switzerland. Health-tech start-ups from India and Switzerland pitched in front of experts from both countries. There was ample opportunity for start-up entrepreneurs to network with the ecosystem stakeholders as well as to interact one-on-one with the participating experts.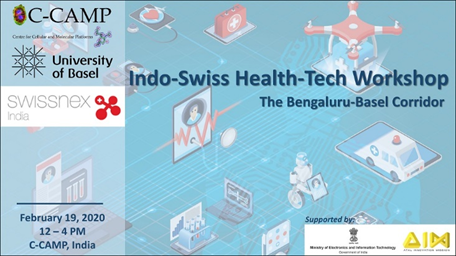 ---
Representation at RESTART
In order to disseminate information about TIDE 2.0 G2C incubation center at C-CAMP and its exclusive activities among the digital technology start-ups as well as other start-up ecosystem stakeholders across India, C-CAMP participated in the digital conference RESTART. The digital conference was organised by Department of Science and Technology (DST), Technology Development Board (TDB), and Confederation of Indian Industry (CII) on May 11, 2020 to celebrate the National Technology Day. The objective of the digital conference was to bring together global innovators, technology leaders, disruptive entrepreneurs, policy makers, industry stalwarts and eminent academicians to share their experiences and expertise that will help in rebooting the economy through Science, Technology and Research Translations in the wake of COVID-19 pandemic.

---
COVID-19 Fightback Initiative at C-CAMP
COVID-19 pandemic has created a havoc across the world with its ramifications poised to surpass any catastrophe in our living memory. We are staring at staggering socio-economic losses if the pandemic is not curbed on war footing. The Centre for Cellular and Molecular Platforms (C-CAMP), being the leading hub of deeptech Life Sciences innovation and entrepreneurship in India, joined nationwide fightback efforts by setting up a platform named C-CAMP COVID-19 Innovations Deployment Accelerator (C-CIDA). The idea behind this deployment accelerator is to identify promising start-ups with deployment ready or near-ready solutions that have a high potential for impact in our COVID-19 fightback. Many of the promising start-ups identified through C-CIDA are leveraging advanced digital and AI/ML technologies for fighting COVID-19 pandemic and hence are relevant and aligned with the objectives of TIDE 2.0 G2C at C-CAMP. A brief note on C-CIDA platform was shared with the MeitY team in April 2020.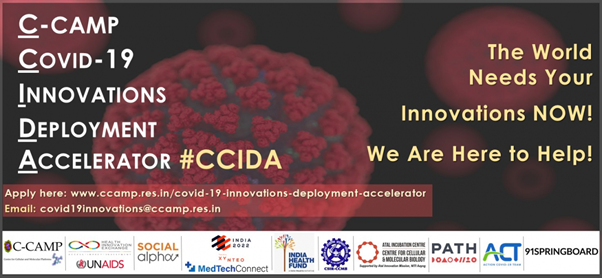 ---
Webinar on - Data-sharing partnerships for developing innovative technologies - legal and ethical implications
C-CAMP under Technology Incubation and Development of Entrepreneurs (TIDE 2.0) and Karnataka Startup Advancement Program (K-SAP) BIO 50 organised a Webinar on "Data-sharing partnerships for developing innovative technologies - legal and ethical implications" with Mr. Prashant Philips, Partner and Mr. Hemant Krishna the Joint Partner of LakshmiKumaran & Sridharan Attorneys as eminent Speakers. The session was insightful and the participants had a closed discussion with speakers on several Common data-sharing models for product development, existing data-sharing framework of India, impending legislation that will impact data-sharing, global best practices and ethical questions involved in data-sharing. The webinar helped the participants to comprehend the legal implications of data acquisition, usage and sharing.   
---
Webinar on Building Digital Infrastructure for your startup: Getting the IT right from the start
C-CAMP having seen start-ups spending a considerable amount of time in setting up their digital infrastructure, organized a webinar on "Building Digital Infrastructure for your Start-Up" on 26th November, 2020 with support of Technology Incubation and Development of Entrepreneurs (TIDE 2.0) and Karnataka Start-up Advancement Program (K-SAP) BIO 50. Mr. Deepak Srinath Co-Founder, Nurture IT, 1st ever, "Start-up and SMB focussed" integrated IT Services Company, along with domain experts from Lenovo workstation and cloud specialists spoke on selecting the infrastructure, cloud management, Data Security and protection from external threat. The participants had an interactive session with the speakers and helped them clarify their domain specific queries.