C-CAMP has partnered with BIRAC and Act Grants to co-fund near deployment ready innovations for COVID-through the C-CAMP Covid Fund to fast track deployment and scale-up of COVID-19 innovations to mitigate the on-going pandemic.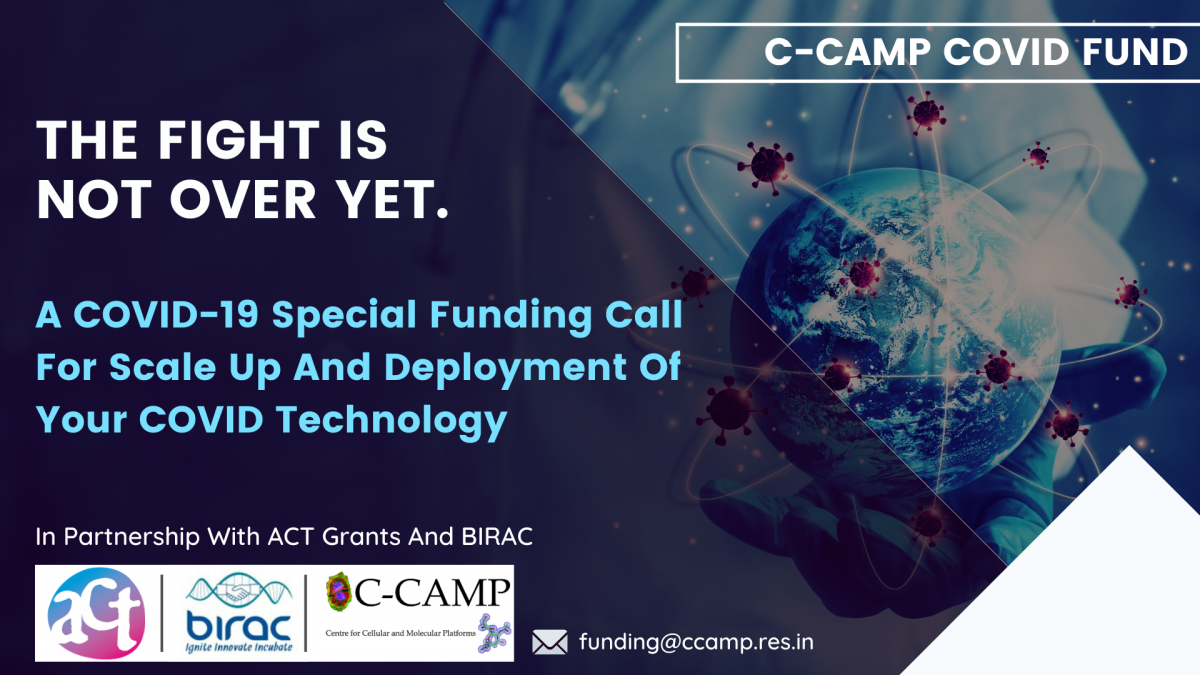 Objectives:
To fund and support the startups/entrepreneurs/innovators working in the space of COVID-19, thereby enabling them to deploy their products and facilitate towards their success in the market place.
To promote and support innovations to mitigate the COVID-19 pandemic in India.
Eligibility Criteria:
The grant scheme is open for Startups and Individual Entrepreneurs
Innovations can be in the following categories: screening, diagnostics, therapeutics, preventives, containment strategies, public health & other categories including but not limited to focussed technologies in
mobile health technologies for screening and homecare,
diagnostic kits and Point of Care tests,
protective gear and sterilization innovations for care providers,
digital triaging tools and risk stratifying systems,
low cost ventilators and oxygen therapy units,
AI systems to assist critical care,
supply chain innovations,
volunteerism and service innovations and
scalable plug and play isolation units, treatment tents
Selection Criteria:
Products/services which are ready to deploy/scale
Applicant must be incubated/willing to incubate at C-CAMP
Quantum of funding:
Grant support of up to INR 25 L per startup/entrepreneur on a milestone-based tranche release for 1 year duration.
Scope of Support:
The program offers supports for several aspects of successful deployment, including
Pilot deployment, operational validation, and field implementation
Scaling through industry and manufacturing partnerships
Apply: https://rb.gy/vonnfk
Deadline: Apr 7, 2021
Contact Us:
For any further information, please contact funding@ccamp.res.in Centre for Cellular and Molecular Platforms, NCBS-TIFR, GKVK, Bellary Road, Bangalore 560065, India. Phone: 91-80-67185055