C-CAMP has partnered with BIRAC to implement the Launching Entrepreneurs for Affordable Products (LEAP) Fund, with the aim of enabling promising and innovative startups in the biotechnology and lifesciences sectors to pilot/commercialize their products/technologies. The scheme is positioned to act as a catalyst in bringing technologies/products forward piloting/commercialization and reducing their gestation period to commercialization.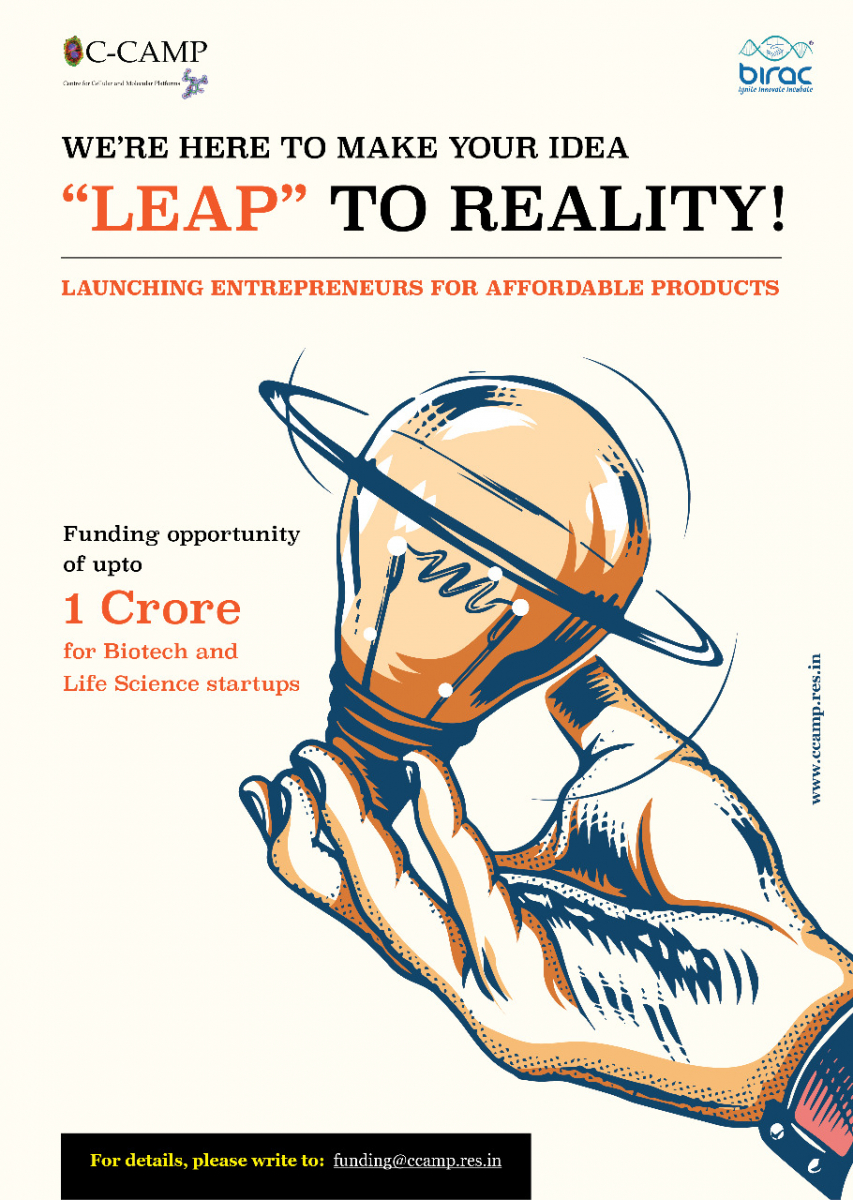 Investment:
The LEAP fund will provide funding support of up to 1 cr INR per startup based on Equity or Equity-linked instruments.
Eligibility:
Indian Start-ups (registered under Companies Act, 2013), having at least 51% shareholders as Indian Citizens [does not include OCI or PIO] as the mandatory requirement.
A company shall be considered as start-up if
It is working towards innovation development, deployment or commercialization of new products, processes or services driven by technology or intellectual property
Its turnover for any of the financial years has not exceeded Rs 100 cr, and
It is up to 10 years from the date of its incorporation/registration
Selection Criteria
The start-up should be working towards innovative technology/technologies and should be product oriented (not services oriented)
The technology should be novel & there should be potential for generation of IP
The technology should fulfill an unmet need and have an impact
The start-ups should have a competent team in both technical & business aspects
The technology should have a sound commercialization strategy and road map to the market
The start-ups should have a clear understanding of the end-user/customer and market size
The start-up should have a sound business plan and company vision
The start-up must be willing to share equity
Apply at: https://www.ccamp.res.in/funding/content/application-form-seed-funding-schemes
Contact Us
For any further information please contact funding at ccamp dot res dot in
Phone: 91-80-67185055
Centre for Cellular And Molecular Platforms
NCBS-TIFR, GKVK, Bellary Road
Bangalore 560065, India
Start-ups funded under LEAP Scheme
---

MOCXA​​ Health, a Bengaluru Based startup is developing the world's first completely automated Video-EEG system for accurate diagnosis of seizures named 360EVS. Using advanced robotics, video and image processing, modern sensors and mobile technologies, the product 360EVS makes seizure diagnosis more accurate, automated, affordable and accessible in any environment. These technological advances also have application in other areas of neurology and medicine. Raja Aditya Kadambi, one of the co-founder, holds a Master's degree in Computer Engineering from the University of Florida – Gainesville with a background in video technologies and medical imaging. Ankita Kumari, the other co-founder, holds a MBA degree from University of Michigan – Stephen M. Ross School of Business in the field of Corporate Strategy & Finance with specialities in International Business, Strategy & Planning.
Website: https://www.mocxa.com/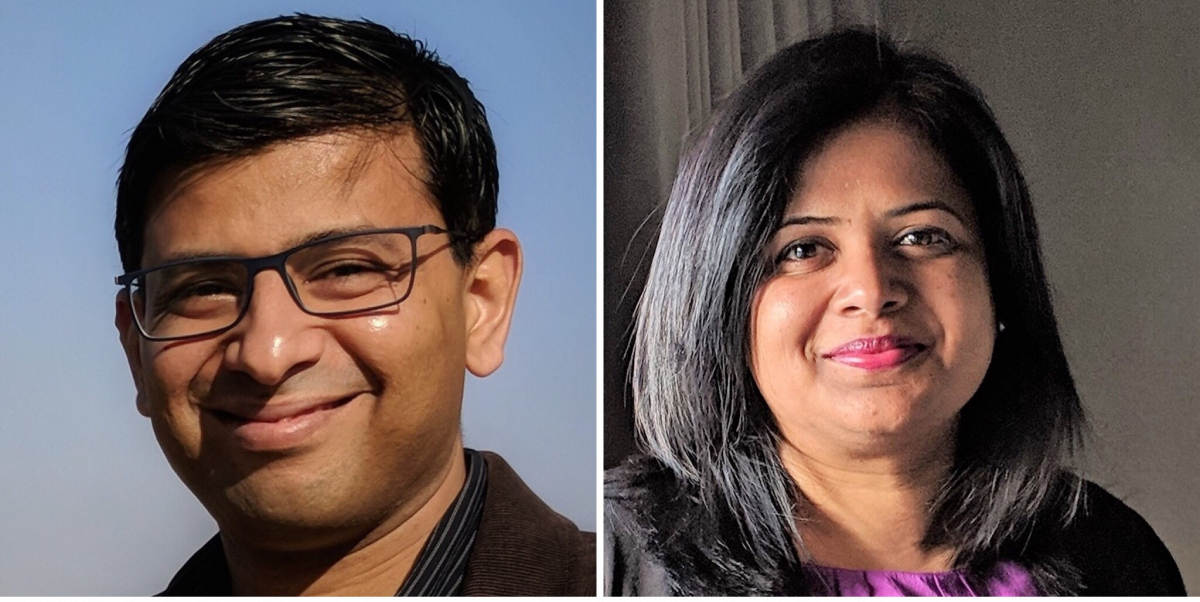 ---
Shilps Sciences Pvt. Ltd.
---

Shilps Sciences is a Bengaluru based start-up focused on harnessing the power of nanotechnology instruments to solve problems in healthcare. cancer labs. By operating at the intersection of biology, electronics, fluid mechanics and data, Shilps enable the rapid deployment of nano scale single cell workflows for therapeutics and beyond. Shilps Sciences application focus areas are discovery of antibodies, development of cell lines and gene editing. Shilps Sciences are developing Atomic Force Microscope and micro-fluidic technologies for isolating single cells for applications in Life Sciences. Shilps Sciences has developed a novel microfluidic technology to isolate and arrange cells. They are now combining this with an Atomic Force Microscope for cancer diagnostics. The company has created IP, built prototype demonstrators and is in an advanced stage of product development. They have ongoing collaborations with cancer labs.
Website: https://shilpsciences.com/

---
Crimson Healthcare Pvt. Ltd.
---

Crimson Healthcare is a New Delhi based startup founded by an alumnus of Stanford India Biodesign with an aim to innovate cutting edge solutions for various problems in the healthcare system with advanced engineering and technologies. Crismon is currently developing its product, SphinX which is a continent ostomy device that aims to empower ostomates by helping them regain control over evacuation and provides freedom from the problems inherent to existing standard of care. The port is inserted into the stoma and stays there for an extended duration and does not require any accessories, skin barrier creams etc. A discreet design conceals its form and shape, giving ostomates confidence and privacy.
Website: https://crimsonhealthcare.in/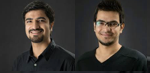 ---
Fibroheal Woundcare Pvt. Ltd.
---

Fibroheal Woundcare Pvt Ltd is a Bengaluru based startup working on various biomedical application of silk proteins for various healthcare needs as a promising cleaner alternative to the traditional dressing for wounds. It work on Bio Modified silk proteins to develop various innovative and patented medical devices / products for Advanced and Active wound care management to address non-healing, slow-healing and difficult to heal acute and chronic wound issues. Fibroheal is dermatologically safe, bio-compatible, non-toxic with a faster healing rate, highly absorbent, has a non-mammalian origin, enhanced epidermal growth functionality and reduces pain within 24 hours of application. Further, it protects the wound from secondary infection, gradual biodegradation of wound contact part, and easy removal of dressing during recovery, post healing phase and also leaves minimum scars. There are different products available such as Fibroheal Sheet, Fibroheal Powder and Fibroheal Ointment.
Website: http://www.fibroheal.com/

---
Althion Tech Innovations Pvt Ltd
---

Althion is a health-tech startup developing import-substituting medical/healthcare equipment & devices for India, and eventually the rest of the developing world. Althion has licensed a patented technology developed by CSIR Indian Institute of Chemical Technology. Building upon this, they are developing two products addressing unmet needs in the Type-1 ultrapure water industry and hemodialysis space respectively. For hemodialysis, Althion has developed a low maintenance IoT connected pure water unit that can be remotely monitored and thereby prevent unexpected breakdowns that affect patient care.
Website: http://www.althion.in/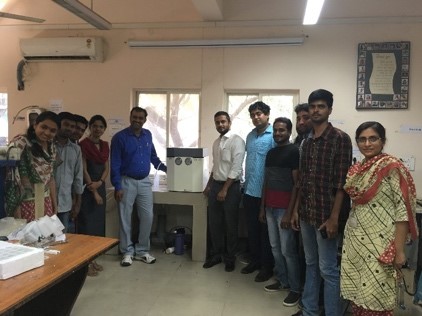 Eyestem is a resident C-CAMP incubatee using stem cell and gene editing technologies to create breakthrough therapies for degenerative diseases of the eye. Age-related macular degeneration (AMD) affects the RPE layer of the retina and ranks third among the global causes of visual impairment. Eyestem's vision is to create scalable and affordable stem cell therapy for these degenerative eye diseases. They have successfully grown retinal pigment epithelium and photoreceptors – two layers of the retina which are key for vision.
Website: http://eyestem.com/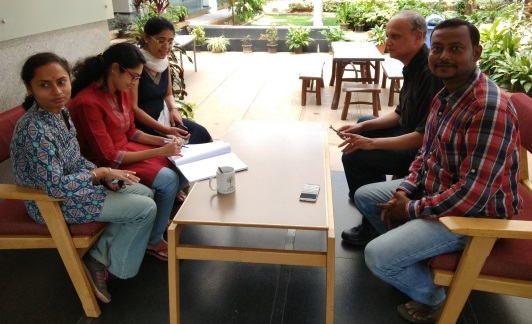 Cartosense is a Chennai based startup envisioning to make targeted surgery more precise and accessible to the developing world. Developed the world's first mobile surgical navigation product – reducing a 200kg capital equipment product constrained to the OT, into a mobile unit that fits into a briefcase. Surgical navigation is technology that tracks the surgeon's instruments while operating on a patient and provides real-time feedback about the current position and trajectory of an instrument with respect to the patient's MRI/CT images. This makes it almost like a GPS system for the surgeon – only accurate to the millimetre level. Their technology aims to democratize surgical navigation by accelerating penetration in emerging markets and new application areas such as ENT, dental and cardiac surgery.
Website: https://www.cartosense.com/