Avail Grant – in – aid upto Rs. 10 lakhs for prototype development under NIDHI – PRAYAS program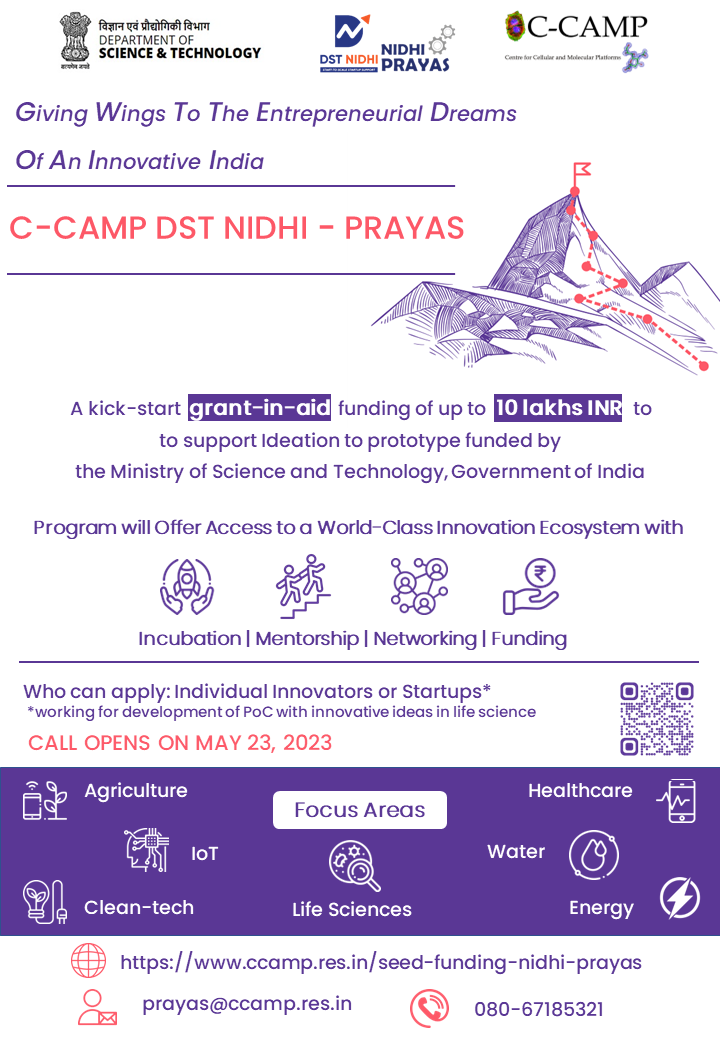 Highlight: Product development is a critical stage for any entrepreneur. Without the right funding and support, your business can fail even before it gets off the ground. That's why NIDHI PRAYAS is such a valuable resource. We provide early stage funding and support to entrepreneurs who need it most. With our help, you can focus on developing your product and getting it to market.
Program Overview
National Initiative for Developing and Harnessing Innovations (NIDHI) is an umbrella programme conceived and developed by the Innovation & Entrepreneurship division, Department of Science & Technology, Government of India, for nurturing ideas and innovations (knowledge-based and technology-driven) into successful startups. NIDHI-PRomotion and Acceleration of Young and Aspiring technology entrepreneurs (NIDHI-PRAYAS) - Support from Idea to Prototype, aims to support and encourage innovation and entrepreneurship in the field of science and technology. The program provides early-stage funding, mentorship, and other resources to help innovators and entrepreneurs turn their ideas into successful startups. NIDHI PRAYAS Program aims at providing prototype funding to convert idea(s) into prototype(s) to young and aspiring innovators. The ideas supported under NIDHI PRAYAS have potential for commercialization. 
Key Features of NIDHI PRAYAS
Early-stage funding up to 10 Lakhs
Mentorship and guidance from industry experts
Access to a network of potential investors and partners
Workshops and training on key business and technical skills
Goals and Objectives:
The program offers a range of resources and support to help participants develop their ideas and turn them into viable businesses. This includes:
Providing a platform for faster experimentation and modify approaches in the idea to market journey.
Workshops and training on topics such as product development, market research, and financial planning.
Mentorship and guidance from experienced entrepreneurs and industry experts.
Access to a network of potential investors and partners.
Support for product development and prototyping
Assistance with business planning and strategy development
C-CAMP also offers access to a world-class innovation ecosystem that includes - Incubation, Mentorship, Networking, Funding
This will ultimately help in generating innovative solutions indigenously relevant to local and global problems.
Eligibility Criteria:
Individual innovators without startup: Indian citizen, 18+ years, Lead innovator applies
Co-founders of startups: Indian citizen, 18+ years, Startup incorporated in India, 51% equity held by Indians, <7 years old, no prior funding support, Turnover not exceeding 25L INR, IP vested with startup
Physical product prototypes only: Technology-based ideas and innovations, Prototype completion within 18 months, Technical skills or background required, Roadmap for commercialization.
Additional terms for innovators in employment OR Students with any R&D organization OR Academic Institution :-The innovators in employment or pursuing students have to seek the NOC from their organisation or institution. The NOC should include:
Permission to apply for PRAYAS and extending sufficient time to work on the PRAYAS project.
Permission that IP generated would vest with the innovator
Notwithstanding the above, the followings will NOT be considered under NIDHI-PRAYAS:
Projects related to Pure Software development, e-Commerce, Service solutions, App based solutions.
Funding research or student internship in Academic institutions or R& D organisations
Focus areas: Only Life-sciences: agriculture, healthcare, clean-tech, energy, water, IoT. 
Extended Deadline: 30th June, 2023
Application Process
Submit an online application form by clicking above link
Selected startups/individual innovators will be informed via email
Final selection will be based on the evaluation of the application and the interview