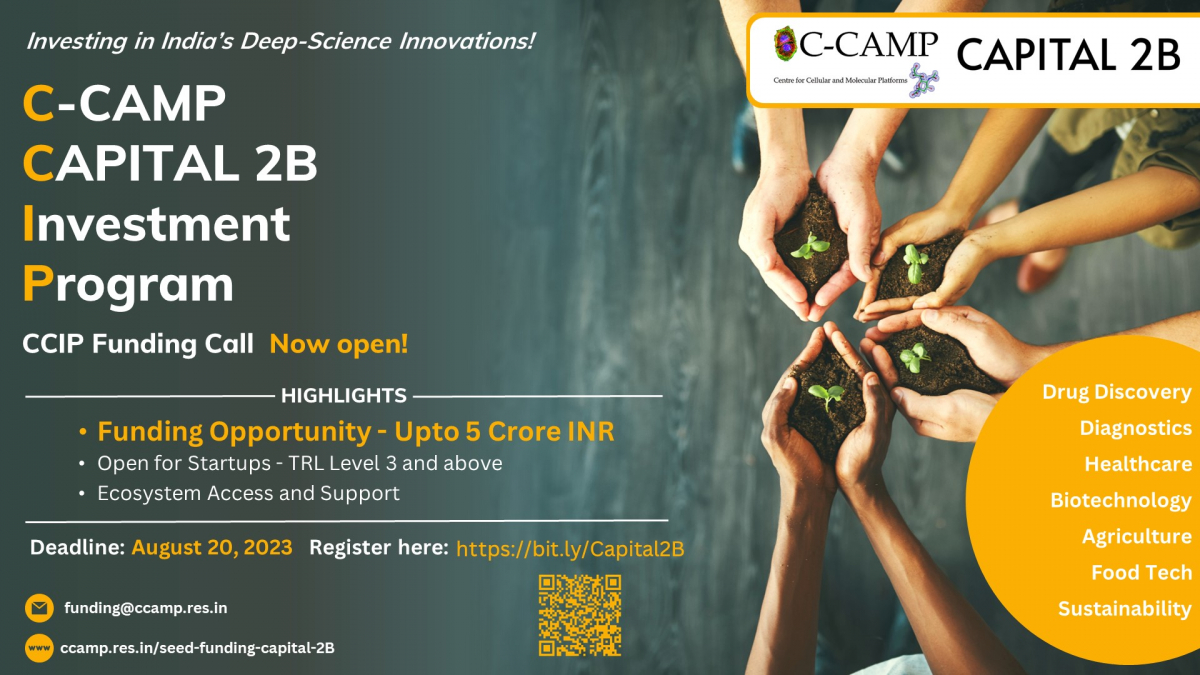 Announcing a funding opportunity for early-stage deep science innovations from India by C-CAMP in partnership with Venture Capital firm, Capital 2B
This funding program will offer:
Seed-stage investment funding of 200-600K USD
Capacity building for start-ups having innovative solutions through i) mentorship, ii) networking opportunities, iii) scale up support (both technical and business) for enablement of acceleration towards market deployment.
Focus areas broadly cover Biotechnology including Healthcare, Drug discovery, Diagnostics, Biotechnology, Food Tech, Agriculture and Sustainability
The program facilitated by the C-CAMP Capital 2B partnership will entail
Capital 2B funding program: C-CAMP will announce national call for applications from startups for the program. Through C-CAMP, Capital 2B will fund and mentor selected startups.
C-CAMP will provide the selected startups access to the eco-system, workshops, networking events and support for further fund raising.
Highlights:
Funding opportunity - up to 5 Crore INR
Sector: All lifeciences startups (healthcare, devices and diagnostics, drug discovery, industrial biotechnology, animal health, agri, enviroment; TRL levels above 3
2023 Call for Applications is open! Register
here
.
Apply by August 20, 2023.